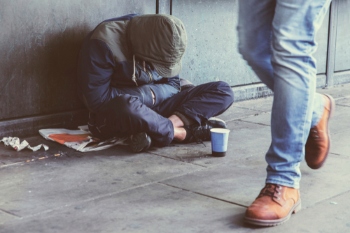 London's local authorities could lose almost a third of their homelessness funding under potential reforms at a time of great economic uncertainty, cross-party group warns.
In their response to the Government's consultation on changes to the Homelessness Prevention Grant, London Councils said that the proposed options would result in reduced resources for the capital's local authorities from 2023 onwards.
The group's analysis suggests the proposals could lead to an overall reduction of 32% for local authorities across the capital – equivalent to London losing almost £50m.
A spokesperson for the Department for Levelling Up, Housing and Communities (DLUHC) described this as 'a total misinterpretation'.
London accounts for around 60% of England's total number of homeless households in temporary accommodation. There are an estimated 150,000 homeless Londoners, including 75,000 children.
London Councils said that they supported the Government's aim of simplifying homelessness funding and ensuring resources are targeted to areas with the highest need. However, they warned that the Government's proposed reforms would fail to achieve this and would lead to cuts for London boroughs.
In their response to the consultation, London Councils said: 'We do not think either of the options presented accurately reflect homelessness pressures and call on the Government to pause the implementation of a new allocations methodology in order to work with local government to develop a formula that does.'
Cllr Darren Rodwell, London Councils' executive member for Regeneration, Housing & Planning, said: 'The capital already faces the most severe homelessness crisis in the country, and it is about to get worse as the cost-of-living crisis deepens into the autumn.
'Although we agree with the Government's ambition of simplifying how homelessness services are funded, it makes no sense to reduce London's overall level of resources. There definitely needs to be a re-think on these particular proposals, and we're keen to work with ministers on finding a better way forward.'
Joanne Drew, co-chair of the London Housing Directors' Group, said: 'Local authorities in the capital have successfully worked with the Government and other partners in targeting resources and reducing rough sleeping on London's streets. We know this collaborative approach can be extended to tackling other forms of homelessness – particularly the huge number of Londoners, including children, living in temporary accommodation.
'We must have adequate funding for London's hard-pressed homelessness services. Reducing London's share of the Homelessness Prevention Grant risks making the problem even worse, leading to higher costs on councils and the wider public sector. No one wants to see this happen.'
A DLUHC spokesperson said: 'This is a total misinterpretation of the figures, which are purely illustrative and do not reflect the amount of funding councils will receive through the Homelessness Prevention Grant.
'This year, we have provided £316m to councils through the Homelessness Prevention Grant, including over £150m to councils across Greater London.
'This is on top of a £37bn package to help households with rising costs, including £1,200 this year for the most vulnerable, helping them to pay their bills and stay in their homes.'