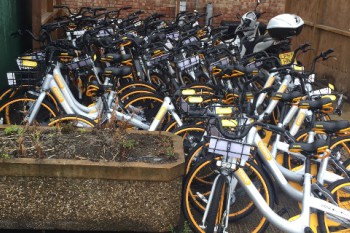 Wandsworth LBC has impounded more than 100 rental bikes after they were left cluttering pavements and causing obstructions.
The London borough said it has confiscated 130 yellow oBikes from its streets and has told the company behind the rental scheme to 're-think the way their business operates'.
The oBikes scheme does not use docking stations, so users simply leave them wherever they please with other hirers tracking them down via a smartphone app.
According to the council, a large number of the bikes have been found outside Clapham Junction station, where they have blocked pavements and caused problems for pedestrians.
'We all want to encourage cycling and other sustainable forms of transport but it is rather naïve to simply dump thousands of bicycles on London's streets without any warning or discussion beforehand,' said the borough's transport spokesman, Cllr Jonathan Cook.
'We have received a flood of complaints about these bikes obstructing pavements, blocking parking spaces and even being chucked in people's front gardens.
'We are happy to support an initiative that gets more people using bikes, but without a drastic re-think, and proper consultation with all the capital's highway authorities this particular scheme, as it stands, is not the answer.'