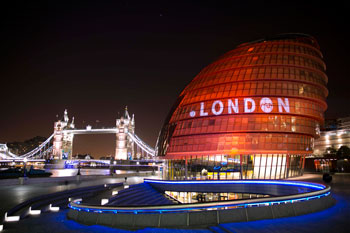 London, the South East and the East of England need 'greater collaboration' across borders in order to respond to the housing crisis and other challenges, think tank says.
A new report published today by Centre for London and the Southern Policy Centre warns that while the three areas are 'economic success stories' they still share 'significant challenges'.
The report, entitled Next-door Neighbours — Collaborative Working Across the London Boundary, highlights the number of ways London and the wider South East are interdependent.
In 2016, for example, there were 900,000 people commuting into Greater London (a 30% increase on 2004), holding 16% of London's jobs, and earning £70bn worth of wages.
Two other examples of how the wider area is becoming increasingly integrated: Oyster cards can now be used at nearly 60 stations outside the capital, and nearly 5% of the school places offered by Surrey County Council for 2017-18 were to children living outside the county.
Integration has brought with it common challenges, according to the think tanks behind the report. These include rising house prices and more pressure on infrastructure.
The researchers found the areas with the greatest increases in the numbers of residents commuting to London between 2002 and 2016 saw their housing market become less affordable for local residents.
Wider South East local authorities will also need to deliver over 150,000 homes every year of the next decade to keep up with rising demand. This represents 59% of England's assessed housing need.
The report also found Essex, Kent, West Sussex and Surrey are facing infrastructure funding shortages ranging from 30% (Kent) to 60% (Surrey) — totalling £10bn by the 2030s.
In order to meet these challenges, the Centre for London and the Southern Policy Centre recommend London and its neighbours should develop a vision for the future, a shared understanding of the challenges they face and a strategy for joint action.
The Wider South East Group, along with other key stakeholders such as LEPs, should also explore how to strengthen the Wider South East strategic partnership as a forum for dialogue to voice these shared interests.
'The Wider South East is the hub of the UK's economy,' said Richard Brown, research director at Centre for London.
'As commuting flows increase and business connections multiply, the region's future economic success depends on London and its neighbours stepping up their commitment to working together.
'The London Plan sets a framework for collaboration, but we believe partners need to go further, by developing a shared agenda for action, and considering a more formalised structure, recognised and supported by government.'
'The Southern Superhub needs to take its place alongside the Northern Powerhouse and Midlands Engine,' he added.