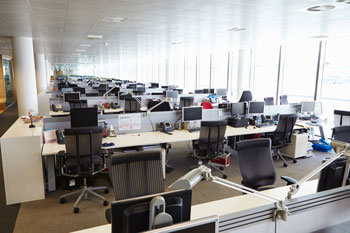 With councils adopting increasingly desperate measures to bring their spending under control the question 'what next?' is becoming ever more urgent.
Somerset County Council is the latest to consider taking the quickest and simplest route to saving money: reducing the salaries budget by forcing staff to take unpaid holidays.
It follows Cambridgeshire's plan to save £900,000 by giving its employees three days of compulsory leave without pay over Christmas.
The worry for many local government workers is that the idea may catch on. If these two counties can plug their spending gap by the instant fix of laying off staff, others may see it as a solution to the conundrum of ever increasing demands for services at the same time as continually dwindling government funding,
The unions appear powerless in the face of such threats. Their ultimate weapon, strike action, would be pointless in the circumstances.
After all, if the staff walked out for, say, three days, it would save the council exactly the same amount of money it wanted to cut from its budgets in the first place.
And if the staff showed willing to stop work for three days without pay to take industrial action, the council could then argue they should be prepared to do so again, not by going on strike but as a way of helping in a crisis.
The council employers also have a powerful argument the unions will find it hard to resist - if they can't save on budgets by laying off staff, the numbers of employees will have to be reduced. It's a straight choice: accept a de facto cut in your annual income or face the threat of compulsory redundancies.
Saving money by laying off staff is routine in manufacturing industries such as automobile production, but it will come as a new and unwelcome development in local government where the idea of a traditionally stable and secure job lingers on in an increasingly fragmented labour market.
In the short term this kind of measure is not designed to increase loyalty and commitment to the job. It affirms their status as paid labourers. In the longer term, it makes council staff more like car workers.
It hardly seems a sensible way to proceed. Pressure on finances is unlikely to let up so the question would be where to stop. If three days unpaid leave fails to plug the gap, perhaps a week might do the trick. Or perhaps staff could only be called in when they are needed - council staff could join the gig economy on zero hours contracts.
For the government, the argument is simple. We have not forced you to make cuts, they are telling councils. You are free to raise more money locally, if you wish to do so, by the simple expedient of raising the council tax.
The portion of council income derived from central government has been dramatically reduced in recent years. Now, when a council says it does not have enough income to cover the services it provides, the answer is simple: put up your council tax.
The longer-term effects of such a strategy are obvious: in the wealthier parts of the country residents will be ready and able to pay more to help fund libraries, children's services and schools. In the poorer places, they will not. So there will be a growing chasm between the haves and have-nots in an already badly divided society.
So council workers find themselves in a tricky position in a sector where not only their own jobs and pay are at risk but the entire service they work for is on an increasingly precarious footing.
They are undoubtedly aware of what may lie ahead. But it remains to be seen how effectively they can make the case for well-funded, centrally supported services staffed by a confident, properly-paid workforce.