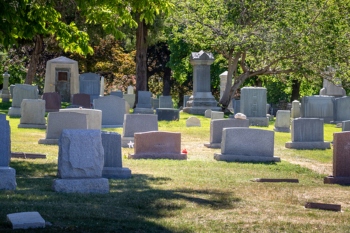 The Government's burial proposals could halve the cemetery space available and lead to the premature closure of many graveyards, local councils have warned.
The National Association of Local Councils (NALC) has opposed some of the proposals outlined in Defra's consultation on changes to the Environmental Permitting Regulations (England and Wales) 2016.ion
It accused Defra of failing to work with local government and burial authorities when framing this consultation, meaning regulatory changes are being made 'almost by stealth'.
NALC said it 'strongly disagreed' with proposals to increase the minimum grave size to five metres squared and retain a one-metre minimum clearance between the base of a grave and the water table in a cemetery.
Its response said:' This proposal would have a huge impact on many local council cemeteries. This proposal would also question the viability of purchasing new cemetery ground with fewer burial plots per hectare. Local councils would also need to increase burial charges to cover the grounds maintenance which many of them try to keep to a minimum for local residents.'
Defra said the proposed conditions will not apply to existing grave plots or grave plots that have already been reserved. The consultation will close on 22nd December 2021.