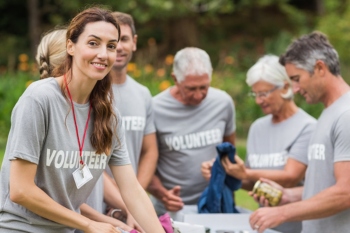 Volunteer's Week, from 1-7 June, is an important opportunity to consider the many benefits volunteers can bring to society - but also the fact that we aren't realising the full potential that volunteering can have.
We owe a huge debt of gratitude to the army of volunteers that was the backbone to the biggest vaccination programme this country has ever seen. Alongside this, ordinary people in every community supported vulnerable neighbours at a time when statutory services were unable to reach them. It took courage to be so inclusive when we were living in fear of a deadly threat we could not see. They too were volunteers; true unsung heroes.
Right now, we face an emergency of a different kind. In the aftermath of the worst stages of the pandemic, health and care services are struggling to cope with acute staff shortages at every level. Many patients and services users face waiting for months or even years for the care and support they need.
Similar pressures exist across the public sector. Critical services are under real threat because human resources are being stretched to the limit. These challenges are complex and require multiple solutions. But volunteering is an essential part of the answer.
Public services are currently missing out on the massive untapped value of volunteering. After almost 20 years of working within UK health, I am convinced of the huge potential value volunteering can make to public service organisations. With staff and services being stretched to the limit, we must harness the support of trained volunteers to help combat huge challenges.
The benefits of volunteering to people are well evidenced. For public sector staff, volunteers provide important complementary support. For beneficiaries such as patients or the public, volunteers provide practical and emotional support, and connections into the community and services. For volunteers it provides purpose and builds skills and confidence.
For example, our research with NHS Trusts shows that volunteers can free up almost 30 minutes per nurse per day, and they can speed up patient discharge by 44 minutes. 71% of nurses tell us that volunteer support helps them feel less stressed.
If volunteering is well-designed, properly resourced and managed, and the impact measured, it can achieve system-level change too, and unlock huge value to public services on an ongoing basis. We have a public that wants to support their community and help their hard-pressed local public services. And we have public services that could benefit from their help. What's stopping us from realising the value?
Volunteering is not about replacing jobs, either current roles or ones that used to be funded. Volunteers are not "free, low-level, unskilled labour", on hand to carry out administrative tasks that organisations would rather not pay for. That is not a role that I as a volunteer would want to do, or any of the thousands of volunteers I've met want to do.
Volunteers add something important on top of trained, professional staff. Something that is unique to volunteers: the gift of our time and skills, and helping through personal contact. We offer time, attention, conversation, compassion; the extra human connection that skilled and hard-pressed staff would love to give but often don't have time for.
Volunteering needs investment – albeit a comparatively small investment for the huge positive impact it brings. Volunteers can't run themselves; they need leadership and management. The volunteer service must be embedded within the structure of public sector organisations.
Volunteering should be integral to all public services. By involving local people, volunteering can help to deliver more effective, people-centred services – along with improving outcomes for citizens.
We need a change in mindset, so that volunteering is prioritised across many more health, care and community settings. It is time to look beyond the emergency response role of volunteers and to embed volunteer services in local authorities as part of our 'business as usual' approach to ensuring more resilient communities.
Paddy Hanrahan is strategy & innovation director at Helpforce