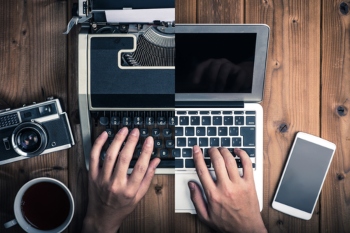 So, for the avoidance of doubt, what does legacy IT actually mean? According to recently published Government Guidance: 'legacy IT can refer to your organisation's IT infrastructure and systems, their component software and hardware, and related business processes….It becomes "legacy" when the technology becomes impossible to update, is no longer cost-effective, or considered an end-of-life product.'
As legacy IT systems age, and when an organisation decides to decommission or retire this technology, the associated challenge of searching, accessing, maintaining, and managing any legacy data within these systems can be a daunting one.
Not only are these systems unable to accommodate today's security best practices, such as multi-factor authentication, single-sign on and role-based access, but the security risks also increase as they may lack sufficient audit trails or encryption methods.
Often at the heart of cyber breach incidents, and because decommissioning is not usually an option, these legacy IT systems can pose a significant risk to an organisation.
How this affects local authorities and why it needs to be addressed
With local authorities having to do 'more with less,' government funding being reduced, and budgets being squeezed, the last thing an organisation needs is a legacy IT system that's both increasing operational costs and system downtime.
Legacy applications are costly to run and maintain, they are not cost efficient. Moreover, these systems require constant attention from the IT department, impacting employee time and resources.
Meeting and maintaining compliance standards, such as cyber essentials is crucial for a local authority, and your technology requires to be able to support this. If it can't, as well as the system being extremely vulnerable to attack from cyber criminals, a data breach could cost your organisation more than just money.
Not only are audits difficult and costly to conduct in environments with legacy technology, but day to day processes and procedures can be unnecessarily complex working with an outdated system.
Overcoming the 'if it ain't broke, don't fix it' mentality
Many organisations think a legacy system will be challenging to upgrade or change, and this often results in reluctance from end users who are comfortable with the existing system to move to another platform.
Employees used to existing systems may not be willing, or see the immediate value, in learning a new system, however, that can be overcome.
It is key to have buy-in and support from your senior management team about why moving to a new system is necessary, with the significant benefits for end users clearly evident.
Support from vendors is a big part of this and implementing a system that is user-friendly with an easy, no-fuss, onboarding process is also crucial - users need to find the transition to a new system as simple as possible.
Ultimately, having a cost effective, secure, IT system which can be easily integrated with other current systems, respects data integrity, and enables fast and simple access for users, is something that most employees would agree could help them.
How managing legacy data plays a part in successful digital transformation
Successful digital transformation across an organisation is more than just addressing your outdated IT system(s) but plays a part in it. Any incompatibility between a legacy system and new system can slow down the development of new services and opportunities for automation and innovation in IT.
Part of digital transformation is about delivering value cost effectively and having the right tools to maximise productivity and efficiency. Operating with outdated legacy technology goes against this.
Digital transformation involves an organisation leveraging technology, people, and processes. Being able to search quickly and easily, securely access, and maintain legacy data will help organisations streamline work processes and improve employee productivity, all contributing towards the success of a digital transformation programme.
The benefits local authorities could achieve and the way forward
Moving/migrating from using legacy technology can add value and deliver real tangible benefits for local authorities.
Cost Savings: An organisation's IT infrastructure costs can be significantly reduced, as well as a reduction in data management overheads.
Time & Resource Savings: Due to increased efficiency and productivity around managing legacy data.
Risk Reduction: Reduced risk of non-compliance and cyber breach incidents, as your valuable your valuable legacy data is safe and 'future-proofed.'
Remote/Hybrid Working Made Easier: As employees are using secure cloud-based technology.
Effectively managing legacy data as part of a digital transformation programme can empower local authorities to become digital-first organisations, significantly benefitting not only the employees who work there, but the general public overall – surely that should warrant the logical way forward.
Lorna Campbell is head of marketing at Nalanda Technology