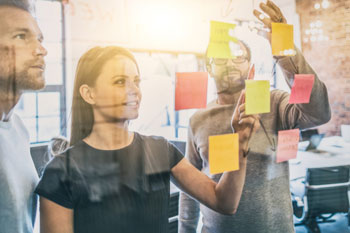 Millions of people use local services every day. But these services are often designed and implemented differently. This means that the experience of citizens can be hugely inconsistent across local government.
At FutureGov, we've been thinking a lot about how service patterns should work for local government. What's the difference between paying the council for a certificate, the rental of a venue or an administration fee? To councils, it's different service areas, staff and processes. To citizens, it's all the same - I need to pay for something.
The challenge is that no two local authorities are the same or do things in exactly the same way. But, what if instead of different services repeating similar patterns, we identified those patterns, learned from them and improved services to better meet the needs of both citizens and our organisations?
FutureGov has been working with Essex County Council to create a map of services as citizens see them to identify and understand common service patterns. So far, we've identified around 150 services for residents. Services like 'registering a birth' or 'applying for a school place' to 'reporting a flood'. We now have an understanding of what things look like within one county council, but there is a massive opportunity to expand this work.
With the ambition of improving services, and increasing collaboration across the sector, we've launched LocalGov Patterns, a project to build a shared library of service patterns for local government.
The library was built to open up our work and create opportunities for collaboration and knowledge sharing across the sector, and includes all the services we've analysed, the patterns we've identified, plus an understanding of the life events people are going through while accessing services.
LocalGov Patterns provides an opportunity for local government to take a service design based approach to improving and transforming the services it delivers. By sharing common components in a pattern library, we're helping support local government teams to create consistent, accessible and familiar experiences for users, as well as more efficient and cost-effective solutions for organisations.
Our goal is to support local authorities to more effectively design their most common interactions; like the many times a booking occurs throughout the transactional services being offered by the same authority and what this experience for residents is really like across services.
We've had a great response to the launch of LocalGov Patterns, with many local authorities keen to learn more and contribute. This is just the starting point to help teams across the UK to collaborate and to share knowledge in order to improve how local government works everywhere. We now need input from as many local authorities as possible to support this work.
The scope and scale of what we can achieve together is limitless. By sharing knowledge and best practice, we believe that local government can design services in a much smarter way. And ultimately, challenge the wider conversation around how organisations design and deliver services.
We'll soon be adding case studies to the new pattern library, as well as what we've learnt from our work with other councils. Beyond that, we're looking to bring this approach to health and other sectors.
Alessandra Canella is service design lead at FutureGov