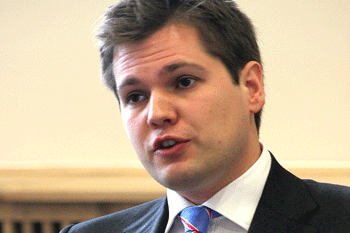 All new homes in England delivered through any Permitted Development Right (PDR) must meet space standards, the housing secretary Robert Jenrick yesterday announced.
PDRs allow existing buildings to be converted into housing without the need to go through a full planning application. The homes instead go through a lighter-touch 'prior approval' process.
Mr Jenrick said that these rights make an 'important contribution' to delivering housing, with over 60,000 homes provided over the last four years.
Local authorities are generally critical of PDRs because – they argue – the rights undermine the ability of local planning departments to ensure all housing is up to a decent standard.
The measures announced today will mean that all new homes in England delivered through PDRs will in the future have to meet the Nationally Described Space Standard.
The space standard begins at 37m² of floor space for a new one bed flat with a shower room (39m² with a bathroom), ensuring proper living space for a single occupier.
'Permitted Development Rights are helping to deliver new homes and making an important contribution to our economic recovery from the pandemic, supporting our high streets by encouraging the regeneration of disused buildings and boosting our housing industry to safeguard the jobs of builders, plumbers and electricians,' said Mr Jenrick.
'The pandemic has further highlighted the importance of having somewhere secure and comfortable to live. While most developers deliver good homes and do the right thing, I'm tackling the minority of developers abusing the system by announcing that new homes delivered will have to meet space standards.'
The Local Government Association (LGA) welcomed the housing secretary's announcement, but said it did not go far enough.
'We are pleased the secretary of state is bringing in this change, which is an improvement on the current permitted development rules,' said Cllr David Renard, the LGA's housing spokesperson.
'However, fundamental concerns over their impact remain. An independent report commissioned by the Government found permitted development conversions mostly avoid making any contribution to local areas, fail to meet adequate design standards and often create worse quality residential environments.
'It is vital that councils and local communities have a voice in the planning process and are able to oversee all local developments. This is the only way they can deliver resilient, prosperous places and ensure developers build high-quality affordable homes in the right places and with the right infrastructure.'