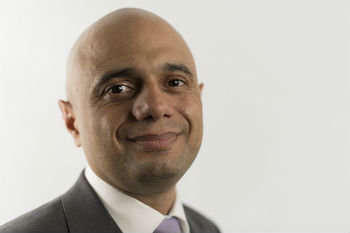 Communities secretary Sajid Javid has been accused of misleading MPs when he said no councils had asked for extra cash to make their tower blocks safe following the Grenfell Tower disaster.
He told the House of Commons on 20 July, a month after the fire which claimed at least 80 lives: 'To date, as far as I am aware, not a single local authority or housing association has approached me or my department to ask for any assistance. If they did, of course we would take that very seriously.'
But Brent Council says it wrote to Mr Javid a week before the statement outlining the extra costs of safety improvements to its housing stock costing about £10m.
Council leader Mohammed Butt and chief executive Carolyn Downs said in their joint letter: 'the council resolved to request the Government to provide the direct financial support to meet the costs incurred. This letter acts as our official request.'
Labour's shadow housing secretary John Healey says he knows of at least five councils which made similar requests for extra funding before Mr Javid made his Commons statement.
He has written to Mr Javid asking for an urgent clarification on how many councils had asked for money.
Mr Butt said: 'Sajid Javid is going out to make all these statements and not making sure that what he is saying is a true reflection on what's going on. It's such a serious subject they do need to get a grip.'
Mr Healey wrote: 'I am aware that at least five councils had made a request for funding help before 20 July, including Birmingham, Croydon, Southwark, Southampton and Brent council, whose leader and chief executive wrote to you fully a week earlier on 13 July with a formal request.
'Why were you unaware of such essential facts? What steps have you taken to make sure you do not make such misleading statements to the House or public in future?'