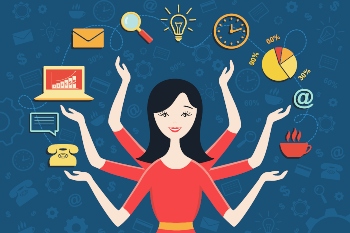 In recent years, multi-skilling has been positioned as the solution to the UK's widening skills gap – with 82% of jobs now requiring digital skills, the lack of prospective employees with the appropriate training needs to be addressed. However, the benefits of multi-skilling extend further than the improvement of job prospects, to even something as simple as a plumber attending an address to fix a water pipe and also being able to raise a ticket for an electrician to attend to resolve a different issue for the resident. It's a case of improving the resident's overall experience.
For local governments, multi-skilling can provide the tools needed to bridge the gap between different areas, streamline communication and improve productivity. For the general public, this means organisations such as councils and their maintenance teams are better connected and more responsive, with shorter waiting times for services. While starting out on the path to effective multi-skilling may not feel natural for many councils, the perceived barriers to this approach can be overcome, and will ultimately provide better outcomes for all.
The pressure on local government
Local government organisations already have their own set of challenges to face before even considering this new style of working. They're typically short-staffed and low on budget, and yet demands on their services only continue to grow. After the initial challenge from the COVID-19 pandemic, the list of people and organisations that need support and assistance is longer than it's ever been before.
A major problem for local government is a lack of access to technology for their labourers, who often don't have access to emails, organisation data, or collaboration platforms such as Microsoft Teams. In addition, they rarely have up to date hardware such as company mobile phones or tablets. But as demands on services are increasing, workers desperately need the tools and required skills to increase efficiency and productivity.
Prevention is better than cure
Multi-skilling is one way to help reduce pressure on local government services, without needing to hire more staff – instead, existing staff are trained how to assist the system so that services can be provided more swiftly and consistently. Multi-skilled operatives can prevent a problem getting bigger and more expensive. After all, prevention is better than cure – take a small pothole, for example. It's quicker, easier and cheaper to fix it while it's still small, rather than waiting until it gets bigger and becomes more of a problem.
Multi-skilling can provide better quality and more responsive services for the general public. More staff are able to do a job – such as flagging the small pothole to the road maintenance department – so the organisation as a whole becomes more responsive. This approach helps to streamline the processes between different service levels, with any member of the council team being able to identify the requirement for a job to be completed, and to raise this need on the system while at the point of service. Of course, should the employee have the skills and materials necessary to resolve the problem with the time they have available, then this would also be encouraged, thereby reducing the need for additional call-outs.
Embracing the digital world
This multi-skilling approach can only truly be successful with the support of technology. Employees can have their own mobile phones that they can use to check company and/or customer information whenever required, and to report incidents quickly, for example. The reporting processes can be enhanced with the aid of easy-to-use applications, thereby making reporting simpler than before, and reducing the need for physical paperwork.
If all council employees have a mobile device and access to a bespoke application that can not only provide them with all of the information regarding their job at hand, but also a reporting function that enables them to quickly and simply report another job to be completed by another department, the customer receives a higher quality of service with little additional input required from the initial employee.
How multi-skilling benefits the whole community
Multi-skilling can sound as though employees are required to learn multiple skills in addition to their current skillset, but as outlined here, that isn't necessarily the case. By enabling employees to recognise and report on issues that they come across in their everyday work, this simple action can vastly improve the services that local governments are able to provide. The benefits of this approach cover three key groups:
The customers
For local government, the customers are in fact the general public, and they are on the receiving end of faster and better quality services when multi-skilling is practiced. It is easier for them to log issues with the council and have it resolved by an expert with the right skills for the job. Rather than needing to log multiple issues with the council, a social care worker – for example – could easily report on the resident's behalf that home maintenance was required.
The frontline staff
With new technology implemented such as mobile working solutions, frontline staff – from electricians to plumbers to social care workers – can all easily access the information they need to perform their jobs effectively and efficiently. By using this technology to assist customers with a wider range of issues and reporting jobs that need to be completed by other members of the council, they can leave each of their own jobs knowing that they've done everything possible to support that member of the public.
Staff also learn additional skills through increased training that not only help them with their jobs now, but will also benefit them in future as their career progresses; communication skills, for example, can help employees put customers at ease and help to give them an increased level of trust in the council.
The organisation
Finally, the organisation itself benefits hugely from the implementation of multi-skilling. It enables the improvement of organisation-wide capacity planning, skills checking, and the maintenance of skills. Local councils are better able to meet the growing demands for services that they're experiencing post-pandemic, and also reduce the pressure on stretched budgets. It also helps maintain a positive opinion in the general public of the organisation – they know that people who wear the uniform and work for the council can help with anything, and this is crucial for the reputation of the council in the local community.
When employees in local government are out on the road, visiting people and places that need assistance, being able to access all of the information that can help them to deliver good quality service is vital. Even better, is being able to support the people in their community – be it individuals or the public as a whole – with issues that are outside of their remit, simply by logging new jobs as and when they are required. Completing work quicker and with fewer call outs helps the community to get back to normal, and helps frontline staff to achieve more in each day, without taking on additional work. So to answer the crucial question: is multi-skilling the future of local government? Absolutely.
Chris Hornung is managing director of public sector at Totalmobile