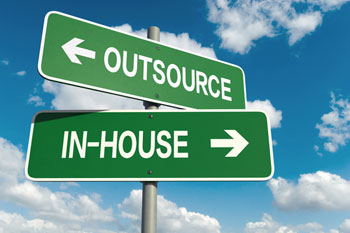 As part of the labour leadership campaign Jeremy Corbyn has pledged to 'act to insource our public and local council services, increase access to leisure, arts and sports across the country and expand our publicly-controlled bus network'.
So what is meant by the term 'insourcing'? Put simply, it is where a service delivery contract has been contracted out to a private company and is then brought back in as a direct or 'in-house' service. This is not a new phenomenon. In 2004, a report by Warner and Hefetz's, 'Pragmatism over Politics: Alternative Service Delivery in Local Government', detailed that a fifth of all previously outsourced services in the United States were brought back in-house. This, alongside evidence that insourcing was challenging the orthodoxy of competition and driving greater efficiencies, was a primary driver for APSE to explore insourcing in more detail.
We have, to date, published two reports on insourcing, in 2009 and 2001, and since then, new cases of insourcing by local councils have emerged regularly. We are now looking towards our third insourcing report.
Just like the earlier report by Warner and Hefetz, we found the main reason for UK local authorities to insource was service quality. Poor performance, with services that were performing below the national trends and targets, were leading to low customer satisfaction. In some cases studies, contractors had reduced the number of activities delivered as part of a contract in order to control costs, and coupled this with a lack of investment in service assets.
For example, contractors used older refuse collections vehicles that could suffer from mechanical failures, with little incentive to replenish the fleet. Our case studies show that insourcing is not ideologically driven but driven by a desire to get the best possible outcomes for service users – local residents who expected 'the council' to deliver high quality services.
A further reason councils choose to insource is that they strive for flexibility. The reorganisation of in-house services to reflect changing local needs and priorities was typically hampered by outsourced delivery models. If we look at this through the prism of local environmental services, it makes sense for councils to take a holistic approach to delivery and connect services together, such as street cleansing rounds that routinely follow refuse collections.
Contracts are sometimes viewed as fettering better service integration and improvement, as it is often difficult to generate contract changes without some punitive contractual measure.
Additionally, inflexibility on the part of private sector contractors to deliver new, added value and quality improvements to service delivery can limit local political discretion over services. Services that may have been deemed appropriate at the point of contract may no longer be affordable when making choices over which rationed services they wish to prioritise. For example, many councils have moved to three weekly refuse collection cycles driven by budget necessities.
Added into the mix are concerns over workforce training, development, low pay and poor morale. Some case studies reported poor service performance due to high levels of staff absenteeism caused through poor practices and TUPE being undermined in the longer term by recruiting staff on differing terms and conditions.
Given Jeremy Corbyn's pledge in insourcing, could we assume that these 'insourcers' are labour councils? Not necessarily. Our research did not expose any particular political bias towards insourcing services. In fact, in the first research study more Conservative councils had insourced services, though this had a slight Southern bias, where more outsourcing had occurred in the first place.
However, it is very clear from the ongoing phenomenon that local councillors are far more pragmatic than central administrations and willing to take firm action if contracts are not working for the benefit of local communities. 'The contractor says no' is not an excuse that local politicians are willing to use in response to residents' complaints of poor service quality.
So the question must therefore be; could Mr Corbyn realistically deliver on his insourcing pledge? Well, probably not without some form of major change in local government powers and contract law and practice. Outsourced contracts are signed off by local councils who have the powers to enter into these contracts in the first place.
Equally, whilst we found most contractors are willing to negotiate how a contract will end, councils are not generally at liberty to unilaterally end contracts without sound reason; to do so could mean liabilities resting upon the local councils concerned – including payment of compensation to contractors. Nevertheless, APSE welcomes the debate on insourcing generated by Mr Corbyn's pledge.
Many who will no doubt gain from winning public sector contracts will want to perpetuate the myth that outsourcing will always deliver savings. In reality, the findings of our research challenge this assumption and expose some of the problems with losing control over service delivery to third parties. We would never argue that in-house is always best and we have openly challenged our member councils to ensure that they do not insource and continue a poor service.
Insourcing should be used to improve the quality and efficiency of services for local residents. And that is where Mr Corbyn will find he has allies across the political spectrum.
Paul O'Brien is chief executive and Mo Baines is head of communication and coordination at APSE.