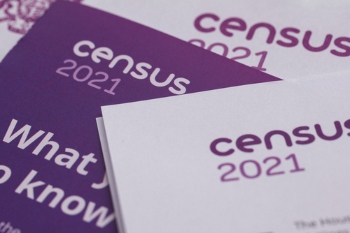 New census data on London's population figures underestimates the number of people living in the capital and should be treated with 'extreme caution', council chiefs have warned.
London Councils has said that the number of Londoners is likely to have been significantly undercounted in the Census 2021 due to the number of people who moved out of the city to a family home during the COVID lockdown
The census, the results of which were published yesterday, suggests London's total population in March 2021 was almost 300,000 (3%) lower than the Office for National Statistics' (ONS) previous population projection for 2021, with some boroughs' figures almost a quarter (24%) lower.
London Councils, which represents the capital's local authorities, warned that undercounting London's population could have a major impact on future funding allocations for public services.
The cross-party group estimates around £4bn of Government funding to London local authorities relies directly or indirectly on census population figures. There will also be implications for billions of pounds of funding for the GLA, the NHS, police, fire, and other frontline services.
Cllr Georgia Gould, chair of London Councils, said: 'The census is a really important tool for policy and decision makers. Accurate census data matters for Londoners because it helps determine Government funding allocations to local authorities. Billions of pounds for frontline services are at stake.
'Counting London's diverse population is an incredible challenge even at the best of times due to our high levels of migration, homelessness and population churn. The lockdown will have undoubtedly made this worse, particularly for communities who suffer from digital exclusion.
'It's a bitter irony that it's often the Londoners with the lowest census response rates who most depend on local authority support – but even small inaccuracies in population counts can seriously undermine future service provision.
'We are concerned that, without looking at the data in the context of the challenges the pandemic created, Londoners will lose out.'
A spokesperson for the ONS said: 'We have full confidence in our Census estimates. We achieved a fantastic response rate of 97% - and over 88% in every local authority - and undertook the most comprehensive quality assurance ever, including involving Local Authorities for the first time.
'We would always expect differences with the Mid Year Population estimates from the year prior to the Census. The main purpose of the Census is to 'rebase' our estimates of size of the population. For some students and in some urban areas, there is evidence that the coronavirus pandemic did result in changes to where people lived. These changes might have been temporary for some and permanent for others.
'We recognise the population continues to change so, using a variety of data sources, we will be providing more frequent, relevant, and timely statistics to allow us to understand population change in local areas this year and beyond.'