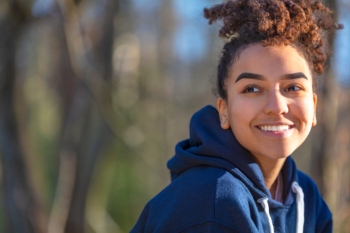 Improving the outcomes for children in care and care leavers has long been one of the most significant challenges that Local Authorities face. Against the backdrop of the pandemic and increased budgetary pressure, these challenges have only intensified. But local authorities up and down the country are developing innovative practices to boost the well-being of children in and leaving care based on what young people themselves say makes life good.
Currently, the information on outcomes collected nationally and locally is very limited in scope and provides only a partial picture of children's lives. For example, government figures on suitability of accommodation for care leavers is determined by professionals' assessments, not how young people feel about their home.
None of this data tells us anything about the experiences of young people from their own viewpoints; are they happy, safe and doing well? The Bright Spots programme, a partnership between Coram Voice and the University of Oxford, funded by the Hadley Trust, has been working with local authorities for over seven years to address these gaps in our knowledge and has developed new sets of well-being indicators such as having trusted relationships, feeling settled, having fun and liking your bedroom to name a few. Our surveys with over 14,000 children from over 50 local authorities have found striking variation between different local authorities. We found that the percentage of care leavers with low well-being in a local authority ranged from 14% to 44%.
It is clear that some local authorities are doing better than others and that there is significant scope to share best practice and learn from positive examples to boost the children and young people's wellbeing.
To understand what contributes to quality care and after care experiences we need to hear directly from those who know the care system best: looked after children and care leavers themselves. As one local authority children's services leader interviewed for Bright Spots evaluation said: 'There's nothing like the children's voices. We can pretend we know, and we can speak to foster carers and schools…but children's voices are the most important.'
Working with Bright Spots can help local authorities to shift the lens and recognise the many things that can influence children's well-being such as friends, nature, positive body image, access to a smart phone, liking school or pets.
Local authorities who take in the programme receive a report detailing how their children are feeling compared to other children in care or care leavers as well as the general population. Once local authorities have their Bright Spots findings, they can work alongside their children and respond to how their children say they are doing. To help with this work we have recently developed a new practice bank which showcases examples of how local authorities have used their Bright Spots findings to improve the well-being of their children in care and care leavers. It also explores work in local authorities where young people are doing significantly better than children in care or care leavers elsewhere or report the same or higher well-being than their peers in the general population.
We've seen some interesting approaches emerge. Isle of Wight has developed an accessible allotment to give easier access to nature, a chance to learn gardening skills and meet others in the community. Sheffield Care Leavers' Union (SCLU) designed the challenge 'Reality Cheque' for 'corporate parents' so they can experience what life is like living on a low income. They created a challenge pack and set of rules.
Some changes have focused more on policy or practice within local authorities and were easy to implement, such as North Somerset changing the language used by professionals to be more child focused and Hampshire introducing changes to make care plans more child-centred. Middlesbrough worked on making sure all children knew their social worker. Others improvements were bigger and strategic such as the Isle of Wight involving care leavers in commissioning new supported living accommodation.
Whilst there is no one single experience of the care system, there are some common and consistent views on what children say matters to their well-being. We have found that the issues that children say are important are not always what services prioritise. We hope that sharing the work that focuses on what children themselves say makes for a happy life can inspire more local authorities to develop similar initiatives.
Spotlight on Sheffield
Bright Spots research shows that low well-being is associated with being unhappy with your appearance. Yet body positivity is an issue rarely discussed in performance dashboards or strategies. Some local authorities, like Sheffield, are working to change this. In Sheffield children in care organised a fashion show to inspire younger children in care. The group made links with local community organisations and engaged their help with music, staging and lighting for the event. They also worked with a dancer and drama coach to improve their confidence and movement. Children chose their own backing track and positive message to say. Invites for the event were designed and the event was described as all about 'loving ourselves and yourself as you are'. Children wanted the evening to be a celebration. Making sure those who came along had fun was a top priority. Over 150 people came along and feedback was positive.
Bright Spot of practice in East Riding
Nationally, the proportion of care leavers in local authorities participating in the Bright Spots Programme who had not had an explanation or wanted to know more about why they were in care ranged from 1 in 25 (4%) to almost 1 in 4 (39%). In East Riding a larger proportion of care leavers reported they had received a fully explanation as to why they were in care compared to care leavers nationally. One reason for this may be because the Pathway Planning process in East Riding contains a specific question in the 'identity and interests' section which asks: Do you have any questions about why you became looked after? The question acts as a trigger for discussions and is a prompt for leaving care workers to check with their young person every now and again whether they feel happy with the knowledge they have and to ask if there is any support they need with this area
All these examples and many more are in the practice bank - do get in touch if you'd like to feature your work or find out more about taking part in the programme.
Dr. Claire Baker and Linda Briheim-Crookall of Coram Voice