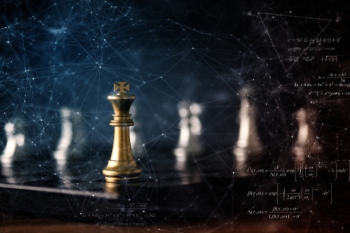 We often hear conversations about digital strategy in local government, but that's usually a misnomer. Digital is an important way of thinking about and doing things as councils transform their services and how they operate, but it shouldn't be an end in itself.
Strategy needs to look at the whole, whether or not digital is a central part of what you're doing. While much of our work involves digital initiatives, we often collaborate with local government organisations on strategy before they know if a digital solution is something they need.
So when forming a strategy, how do councils make sure what they do is valuable and has a positive impact? Is it as simple as making sure there's clarity about goals and the right measures are in place to guide what happens and track progress? That's part of it, but there's more to unpick and here's our experience of what some of that might look like.
Knowing where and how to start
It's often difficult to know where to start. The process of designing a strategy can be challenging, and it can mean different things to different people.
It's important first to understand the problem you're trying to solve and why things need to change. Data and evidence is always important when you are beginning to create any plan or embarking on a project. It helps guide the process, home in on where to focus and identify what problem to solve first.
You could uncover data, for example, that highlights a large volume of calls to one of the local authority contact centres, or data that shows that a particular group of people struggle to access an essential service in comparison to others. With these insights, you can explore what's currently happening, and understand where the opportunities are to do something different.
Knowing where to start is difficult, but it's much easier with the evidence to show what's happening now.
A strategy is much more than a document
We usually think about strategy as creating a plan to achieve a vision. Often there is an instinct to write a big strategy document that reflects the full reach and complexity of what's to happen. It can be hard to fit everything in, and make sure everyone is happy, while also creating something you'll be able to deliver in a given timeframe and that a wider audience can understand and believe in.
Of course this doesn't mean that a document isn't useful to explain what you are setting out to achieve, but what's important is having a clearly articulated, compelling and evidence based vision. This could be presented in a number of ways, with words, visuals, or perhaps even a short video. A diagram showing how things will work is sometimes just as helpful as writing lots of things down.
A strategy doesn't need to be all encompassing or complete upfront, and trying to do this can really hold you up. It doesn't matter if there are some gaps, as plans will evolve naturally once you start working towards your objectives. You will learn as you go, and your strategy needs to adapt to reflect this. Taking an agile approach to your strategy will help.
The bond between strategy and delivery
I always encourage those in local government to keep in mind that it's one thing to form a strategy, but another to develop one that is deliverable. It's best to think about and plan for delivery right from the start. This way, you will avoid creating something that is too big or too complex and prevent teams from working towards things which may be difficult to achieve.
Identifying and evidencing the problem and forming realistic plans are the key points here. It doesn't matter whether you are developing a strategy or about to start a discovery exercise for a new citizen service – good planning is fundamental.
A user-centred approach
Wherever possible, your strategy should be built around the people that are impacted by it. Who this is will vary, but focussing on your users, whether that's internal teams or the people who use your services, means your strategy will be built on a good understanding of a range of perspectives and needs.
This can be approached in a similar way to designing a new service. By understanding who your users are, what they need, how things work for them now, and where improvements can be made. We strengthen what we do by involving people in the creation of a strategy, often working closely with our service design function to guide a collaborative design process.
Plan how you will measure progress
It's easy to overcomplicate the measurement of progress, when in fact there are much simpler ways to do it. Start by thinking about all the initiatives that form part of your strategy, the goals that you want to achieve and then determining 'what good looks like'.
Again, it's best to think about how you can show your progress and success early on in the process of developing your strategy. We spoke about collecting data and evidence at the beginning, when forming a strategy, this is also an important part of measuring progress as it allows you to set a benchmark. Without a benchmark in place, it's hard to know how much you need to improve or what improvement really looks like.
Where the evidence isn't available, think about how you can put measures in place to start collecting the information you need.
Every strategy is different
One size does not fit all councils, and a cut and paste approach may not be effective. Needs, demographics and digital maturity can vary hugely from council to council. But it's helpful to keep in mind what works:
starting-off well by looking at the evidence
taking a user-centred and agile approach
remembering that writing is not everything
planning how to measure your success
By taking this approach you will make sure that the strategy you develop will be tested against its ability to deliver, understand risk, share progress, and celebrate success. Remember that when it comes to creating a strategy, being ambitious is desirable. Being deliverable is essential.
Isobel Croot is head of strategic services at dxw