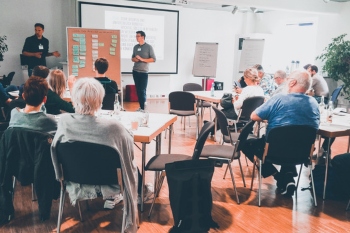 Open data is the idea that some data should be freely available so that people can do with it what they wish. Releasing data brings a lot of measurable benefits for government, from evidencing the commitment to transparency, local organisations using it to create products and applications that have an impact on specialised local issues to your area and improving a range of local services from the environment to housing.
It's a process that the majority of our local authorities are on board with thanks to a number of reasons, including pressure from central government, but it's time for us to take ownership in our outreach and ensure it is up to standard to suit our very different needs depending on the area.
Open data has quite a strange reputation, it is seen as highly academic, corporate and technocratic which certainly isn't an inclusive image.
But, have we ever stopped to wonder why it has this image, and in all honesty, is it fit for purpose? In this article I'm going to talk about some of these points and how we can manipulate it to fit the needs of community reliance, something that you as council workers, regardless if you are based in digital or neighborhood development, will be an issue that you should find highly important.
To put it in the most frank way I can, the image of open data has been moulded by corporate professionals, especially those with a tech background, usually sent by central government to help local authorities upscale quickly, it is not shaped by us in the local government sector or our third sector who exists in our different ecosystems.
And that influence has had some clear reapercussions.
To give you some context, go and visit any government open data portal, I think you will be forgiven for thinking they are corporate entities in their own right, now, take a look at some of the language that is used. I would like you to put yourself into the mindset of a staff member of a local community organisation, let's say a tenants and residents association for context, if you were looking at this would it be something you'd feel comfortable engaging with?
From my experience, and to be honest, the reason I have a job in digital civic engagement, is a resounding no.
But open data has the power to change how third sector organisations work, from improving their capacity to increasing the awareness of their work, which can lead to commissioning. It can also be used to form evidence for funding applications, reports and articles, with much more potential.
With this in mind, why isn't local government in the UK doing more to improve open data outreach?
From my experience of working with central governments around the world on the issues of digitalisation and citizen engagement policy, the answer in a lot of situations is simply down to staff confidence.
From the humble district council to the central government, there is a similar story, a lot of the time, especially from staff who lead on digital projects, officers are afraid to ask questions because to their peers they feel they need to be the expert.
This isn't just a thing here, it's a global issue. Last year we held a series of policy hackathons with the governments of Colombia, Romania, Slovakia, Kenya, Palestian Authority, Scotand and more, where this was a common talking point - over 216 government officers and policy makers took part from eight countries, when asked if they believed a different approach should be taken to communicating gov data to NGOs, 69.9% stated it is extremely important and the rest said very important at 30.8%.
So, work needs to be done to create a safe platform where people can come together and build that confidence, learn about open data from a blank canvas, how it is used in practical terms and where to find it, but also have the opportunity participate in a series of activities that can help councils form citizen engagement evidence they can use to influence future outreach, policy or strategy.
Lucky for you, something already exists.
Over the past few years, New Union has been partnering with one of the biggest social foundations in Europe, Germany based, The Bertelsmann Stiftung, to create a free and open source toolkit that local government can download and run in their area - originally in German, with successful workshops held with city governments across Germany, an English version has been released and we are rolling it out across the UK.
In the downloadable toolkit you will find a guidebook that explains everything, a workshop presentation and a manuscript that will guide you through each slide which also includes prompts and guidance on questions meaning anybody regardless of skill level can facilitate the workshop. You will also find tools to help you promote your event such as Eventbrite text and imagery, content to share on social media, blog templates and an edible poster, and finally fact sheets on setting up a steering group and networking events to keep the conversation going after the event - all the facilitating institution has to do is book a room.
You can find more information and the download page, here, or you can watch this five-minute info vlog that goes into more detail.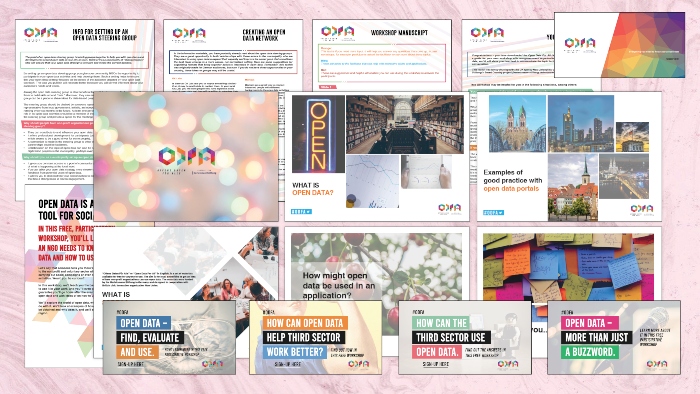 Example of what you will find in the #ODFA toolkit
Getting third sector on board genuinely makes our life easier but in order to get success with that you need to include them in how a narrative is formed and give them a sense of ownership, this will help you to do that.
Worthworth, meaningful and inclucisve training is hard to find on this subject, which is exactly why this toolkit was designed, so you have to ask yourself, why wouldn't you do something that improves the update of the data you already release with social organisations?
Nathan Coyle is the managing director of not-for-profit civic innovation organisation New Union