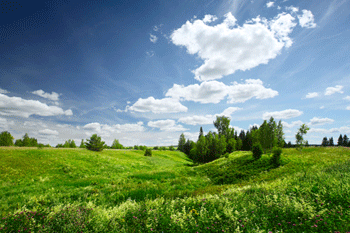 The housing minister has given Bradford's local plan the go ahead after a delay caused by concerns regarding Green Belt boundaries.
Bradford Council's Local Plan Core Strategy was put on a temporary hold last October by the minister of state for housing and planning, Gavin Barwell, following a technical intervention from Shipley MP Philip Davies.
There were concerns the plans, due to be adopted last October, would alter the boundaries of the Green Belt.
However, in a letter sent today, Mr Barwell wrote: 'The Secretary of State acknowledges that the Plan does not alter the existing boundaries of the Green Belt and that any future changes to Green Belt boundaries will be through the preparation of Site Allocations.'
While the plan focuses on identifying housing development on brownfield sites, it acknowledges some areas of green field and Green Belt land will inevitably have to be used due to the 'sheer scale' of housing needed.
Cllr Alex Ross-Shaw, Bradford Council's executive member for regeneration, planning and transport, welcomed the housing minister's decision.
'The Plan is sustainable and prioritises brownfield sites,' he said.
'Before the Holding Direction was issued, a Government Planning Inspector had already indicated that the plan was sound.
'Now the Government has accepted the judgement of their own inspector, we can get on with the rest of the process to make sure that development in our district isn't a developer free-for-all.'
Council leader Susan Hinchcliffe said: 'From the outset everyone knew that the Local Plan obviously complied with all the planning rules set by Government and therefore it would have been odd for Government to find their own rules defective.
'My biggest concern over this last few months has been that developers would put an application in on Green Belt anywhere in the district and without a Local Plan we would have been powerless to stop them.
'The Secretary of State confirms our view that Green Belt should only be developed in exceptional circumstances. We agree. We have as much concern about the countryside and want to protect it as much as anyone else.'
For more on the Green Belt read our feature, Do we REALLY need the Green Belt?