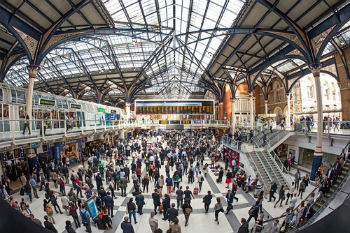 Planners have called on the Government to focus more on transport-oriented housing developments as study reveals only half of new housing is built within 2km of a train station.
The Royal Town Planning Institute's (RTPI) Location of Development study has found 51% of new housing between 2015 and 2017 was granted permission over 2km from railway stations.
The RTPI's research on housing locations — the largest study of its kind — analysed the location of permissions for over 220,000 new homes in 12 fast-growing city-regions between 2012 and 2017.
The 51% figure represents a 2% decrease from the 2012-15 period.
The new study was published to coincide with the RTPI's response to the National Planning Policy Framework (NPPF) consultation, which emphasises how poorly located development risks negative economic, social and environmental impacts.
'The NPPF gives us the opportunity to ensure that planners have a sound policy framework which encourages transport orientated development,' said Victoria Hills CEO of RTPI.
'The funding and delivery of infrastructure should be targeted to maximise potential for sustainable development close to train stations and public transport hubs.
'Our research on where housing development is actually being permitted shows that current policies do not go far enough to underpin the need to deliver housing in the most sustainable places.
'We call on Government to tighten up this aspect of the NPPF.'
John Acres MRTPI, president of RTPI, said: 'Planning is not just about delivering houses but about creating economically successful places, attractive to people and investors.
'Ensuring housing developments and transport are closely linked is not only good for the environment but also good for the economy.
'Planners need to be kept at the forefront of a much broader approach to the economic and sustainable development of places.'