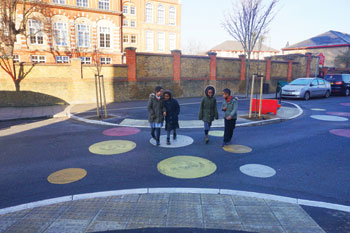 A successful traffic calming scheme around an inner city London school has demonstrated just what impact a relatively small investment can have on a local community: improving safety, air quality and social cohesion all in one go.
The New Park Road scheme, Brixton Hill, has been chosen as this year's winner of the Highways category with the judges praising its 'lively and life-saving design'.
According to Lambeth, in 2015, New Park Road was a typical London, grey connector route dominated by cars and HGVs. The road is home to Richard Atkins Primary School and every day pupils, parents and staff navigated what Lambeth described as a 'hostile and polluted environment'.
A major issue was how users could safely cross the road at established desire lines when a nine metre carriageway populated with high speed vehicles divided the space.
Air pollution and road accidents were significantly higher on New Park Road than on similar roads in Lambeth. Despite 80% of parents and school children walking, cycling or using public transport to reach school, many were very concerned about their safety.
Lambeth asked Sustrans to co-design a proposal that transformed the character of the road and created a key community hub that gave the street back to people.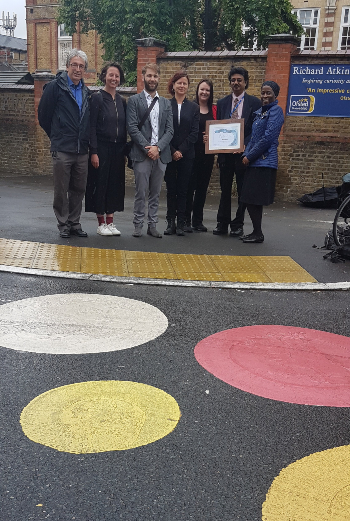 The scheme aimed to transform a car-dominated road into a localised street focused on the needs of the local community. The vision was to improve the experience for day-to-day users and support local businesses through a series of street transformations.
By slowing and reducing vehicles, the scheme aimed to create places for people and support freedom of movement for pedestrians and cyclists, tying into Lambeth's own vision by facilitating a blanket 20mph borough-wide zone.
According to Lambeth, the design challenges traditional highways and traffic engineering through the removal of regulatory behaviours. The carriageway was narrowed through a series of circular build-outs, which provides multiple shorter crossing points, where previously no clear crossings existed.
Colourful circles around crossing points suggest safe locations to cross. The circles use the school's colours and seek to give the impression that the school is spilling out into the street.
The no priority give-way build-outs encourage drivers to go slower, thereby discouraging people from using the road as a through route. Granite kerbs were used because they are high quality and long-lasting. For the coloured circles, thermoplastics were used because they are cost-efficient and easy to maintain.
Fourteen trees were planted, making a contribution to sustainable drainage, improved air quality and city cooling.
The streetscape has been decorated with colour and trees. Lambeth describes the redesigned street as 'difficult to drive through but easy to access on foot or by bike'. It says a reduction in non-local traffic, more greening and footway space means that the street now has a positive impact on quality of life and social cohesion while the transformed environment improves access to local amenities for people travelling on foot or by bike.
With more shopping space and more crossing points across the road, the businesses become more accessible and inviting, helping generate a stronger local economy and encouraging social interaction.
There has been a 27% reduction in speeds and a 14% reduction in volume, which has significantly reduced the risk of accidents to residents, parents and schoolchildren, who feel more comfortable crossing the road.
There has been a 30% reduction in the number of HGVs using the street. As a result of the reduction in traffic volumes, local emissions have also dropped.
Submitted by: Hamida Moncrieffe, Project Admin Support Assistant, Sustrans, on behalf of Bala Balaskanthan, Traffic Engineering Manager, Lambeth LBC
Project lead: Lambeth LBC
Design: Sustrans
Contractor: FM Conway
You can visit the Street Design Awards website for further details about the competition.