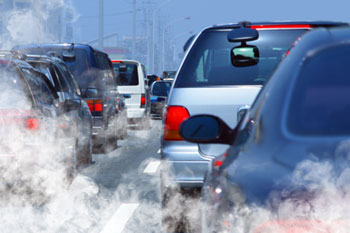 Local authorities should introduce bylaws to enforce 'no vehicle idling' in areas where people particularly vulnerable to air pollution congregate, new guidance says.
The guidelines, developed by the National Institute for Health and Care Excellence (NICE) and Public Health England (PHE), outlined a number of ways councils can help tackle air pollution.
They urged authorities to consider introducing clean air zones which could include restrictions or charges on certain classes of vehicle, and support zero- and low-emission travel.
The guidance also called on councils to introduce fuel-efficient driving initiatives, such as 'no vehicle idling' areas, which could reduce emissions within the clean air zone.
These areas could be created through bylaws in places where vulnerable people collect, such as outside schools, hospitals and care homes, and in areas where exposure to road-traffic-related air pollution is high.
PHE estimates long-term exposure to particulate air pollution has 'an effect equivalent to' around 25,000 deaths a year in England.
Road traffic is estimated to contribute more than 64% of air pollution recorded in towns and cities. This comes from exhausts and other sources such as the wear of tyres.
Children (14 and under) and older people (65 and older) are particularly susceptible to the effects of air pollution, as are people with respiratory conditions, like asthma, or heart problems.
Responding to the report, Local Government Association (LGA) environment spokesperson Cllr Judith Blake said: 'Good air quality is vital for our health and quality of life as well as the environment. Councils are already playing a pivotal role in tackling air pollution.
'These measures include encouraging the use of electric vehicles with recharging points, promoting cycling, investing in cleaner buses, managing borough-wide air pollution monitoring networks, pioneering the concept of low-emission zones, planning for new places in ways that improve air quality, and engaging with businesses to increase awareness and reduce their environmental impact.
'Councils should be able to switch their focus from simply monitoring air quality to also devising solutions to tackling poor air quality.
'This needs to be supported by government policy at a national level. Local impact of poor air quality varies from place to place, therefore each area will require their own unique mix of solutions, of which reducing engine idling could be one.'
Environmentalist legal advocates ClientEarth CEO James Thornton said: 'Tackling idling is a useful measure but pollution in the UK isn't restricted to the roads outside schools and care homes.
'What is hugely significant is that public health experts are promoting clean air zones which could charge the dirtiest vehicles to enter the most polluted areas of our towns and cities.
'The Government's own evidence shows this is the most effective way to bring down illegal and harmful levels of air pollution as soon as possible, which ministers are legally bound to do.'