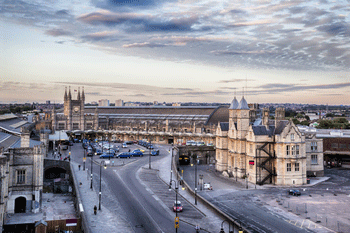 The three cities of Bristol, Cardiff and Newport have joined forces to establish an economic an Anglo-Welsh economic alliance to boost growth in the Severn region.
Proposals to establish a cross-border economic partnership across the three cities with a £58bn GVA output were suggested in last year's City Growth Commission report, which identified the Severn Region as one of six powerhouse city regions on which the UK will come to depend for future growth.
Key investment goals arising from the decision to unite the economic fortunes of the three cities include improving transport links and connectivity, increasing inward investment, skills and employment provision.
Another objective is to make best use of renewable energy opportunities – including the UK's longest river Severn Estuary, although the Coalition rejected the strategic case for a tidal energy scheme.
Bristol Mayor George Ferguson said: 'I take central government's commitment to the northern cities powerhouse as a timely opportunity and challenge to the West to create its own critical mass in terms of population and economy.'
He said electrification of the Great Western rail line would transform the region and also spoke up the 'unique opportunity to unlock the renewable energy source of the Severn estuary.
Cardiff leader, Cllr Phil Bale said Cardiff was forecast to be the fastest growing major-city outside London over the next 15 years.
'As leader of a capital city, I want Cardiff to be outward looking and connected to the wider world.'.
Leader of Newport City Council, Cllr Bob Bright said: 'Newport is currently undergoing a £250m regeneration scheme and I believe by working together, we can fully exploit the potential of regional business growth which will benefit all three cities and I am committed to making this happen.'
It also emerged yesterday that Newport has become the first Welsh city to be admitted to the Key Cities Group of 24 significant medium sized urban areas – whose members include Coventry, Derby, Sunderland and Wakefield.
Cllr Bright said: 'Membership of the Key Cities group will allow us to grow economically, work together with other cities, share information and the good practice that we have built. This is a great opportunity for the city.'