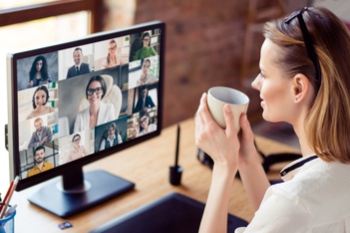 Council leaders have urged the government to rethink the rules to allow remote council meetings.
During the initial stages of the pandemic, councils were able to hold official meetings via video conferencing while the country was in lockdown. But when the emergency legislation ran out, councillors were forced back into council chambers.
Now that the government has put Plan B in place to deal with the Omicron variant, which requires people to work from home where possible, the Local Government Association (LGA) has urged central government to 'urgently bring forward emergency legislation' to allow remote and hybrid meetings.
LGA chairman, Cllr James Jamieson said: 'Holding face-to-face council meetings, with supporting staff, could easily involve up to 200 people in one room even before adding in members of the public and reporters.
'This is an unnecessary public health risk for elected members and officers to take when councils have demonstrated over the pandemic that it is possible to hold formal decision-making meetings in a remote or hybrid manner,' he said.
The call follow that of the Association of Democratic Services Officers and Lawyers in Local Government, who called for a change of the rules earlier this month.