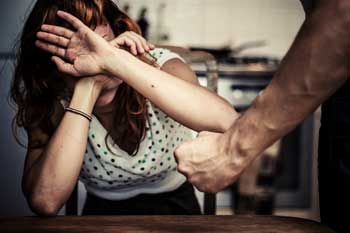 The prime minister has confirmed that his Government will reintroduce a Bill to help tackle the 'horrific crime' of domestic abuse.
Mr Johnson tweeted yesterday that he would ensure the Domestic Abuse Bill was part of the Queen's Speech.
The Bill, introduced by Theresa May's Government in July, would place a legal duty on councils to offer secure homes for those fleeing violence and their children.
It proposed the first Government definition of domestic abuse, including financial abuse and controlling and manipulative non-physical behaviour.
Domestic abuse shatters lives & tears families apart. We are fully committed to tackling this horrific crime - which is why the Queen's Speech will confirm we will be reintroducing domestic abuse legislation in the next session.

— Boris Johnson (@BorisJohnson) September 12, 2019
The charity Women's Aid today warned that domestic homicides were now at their highest rate in five years.
'Domestic homicide is a gendered crime, with 82% of perpetrators being male and 73% of victims being female,' said Adina Claire, acting co-chief executive of Women's Aid.
'It is the final, fatal act of control from an abuser, when the perpetrator, far from losing control, exerts the ultimate control over their victim.'
A recent study by the charity found that women escaping domestic abuse face the risk of homelessness due to a shortfall of refuge bed spaces in England of 1,715.
'A sustainable funding model for refuge accommodation and specialist domestic abuse training for all police officers are urgently needed – without these we don't stand a hope of defeating this horrific crime,' said Ms Claire.
Mr Johnson said he was 'fully committed' to tackling domestic abuse.
Cllr Simon Blackburn, the chair of the Local Government Association's Safer and Stronger Communities Board, said he was 'pleased' the Government was reintroducing the Domestic Abuse Bill.
'Tackling domestic abuse is an issue that councils take very seriously which is why we support further measures to improve work with local partners to help support more victims and stop this horrendous crime,' he said.
Cllr Blackburn emphasised that a focus on prevention and early intervention was needed in order to 'tackle the root causes and support more victims'.
However, echoing the call from Women's Aid, he warned that such measures needed to be properly funded.
'The ability of councils to fund services for victims is limited by significant pressures on their budgets, with local authorities increasingly being forced to prioritise spending for those at immediate risk of harm, rather than on vital earlier support services and prevention schemes which help stop domestic abuse,' he said.
'It is important that any legislative changes in the Bill are matched with adequate resources and funding.'