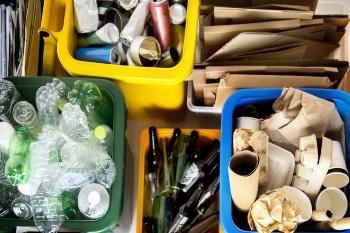 More than 100,000 extra tonnes of rubbish was sent to landfill during lockdown, the latest figures reveal as Government misses 50% recycling target.
Household recycling rates in England fell from 46% in 2019 to 44% in 2020, according to the Government's data.
The report on waste cited the lockdown in response to the COVID-19 pandemic as the main reason for the decrease in recycling rates.
'The effect on local authorities in England varied, but generally there were disruptions and some cancellations of kerbside collections of recycling and garden waste. There were also widespread closures of Household Waste Recycling Centres (HWRCs),' it stated.
The drop in recycling means that the Government has missed its target for 50% of household waste to be recycled by 2020.
A Defra spokesperson said: 'We want to recycle and reuse more of our waste, and support households to do so. Our Environment Act is transforming the way we deal with waste; we have already responded to our consultation on Extended Producer Responsibility, we are introducing a Deposit Return Scheme and we will shortly respond to our consultation on consistent collections in England.'
Responding to the figures, Bettina Gilbert, head of programme delivery WRAP, said: 'The UK's recycling rate took a hit in 2020, falling from 46% to 44.4% for the four nations. Only Wales maintained its status quo, while England, Scotland and Northern Ireland saw rates fall.
'2020 was of course an unprecedented year with full lockdown and huge disruptions across the board, which likely caused this decline. Contributing factors are likely to have been the closure of many household waste and recycling centres and restricted services offered during the pandemic, with local authorities struggling to provide services around staff illness. Priority was given to maintaining residual waste collections for health and safety reasons, while garden waste collections and recycling often had to be suspended or severely curtailed.
'That the levels have not fallen further is testament to the amazing job done by the thousands of key workers continuing to collect our waste and recycling. Recycling helps protect our planet, so it's crucial that we continue to recycle as much as we can.'
This article originally appeared on LAPV.