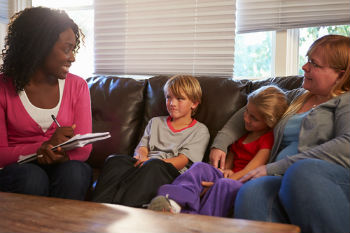 Social workers who need to investigate child protection concerns should be admitted to the home while observing appropriate infection control procedures, according to the latest Government guidance.
The Department for Education has issued guidance on isolation for residential educational settings. It is designed to support the management of children and young people living in children's homes, residential special schools and colleges, further education providers with residential accommodation, mainstream boarding schools, and university halls of residence.
The guidance says that all of these settings are considered households for the purposes of the household self-isolation policy. This means the setting should self-isolate if a resident shows symptoms.
However, it acknowledges that unlike other households, these settings will need to have staff and other professionals arriving and leaving during the period of self-isolation.
Careful infection control measures should be followed during and after visits, the guidance emphasises. Any staff member with symptoms of coronavirus should also cease working immediately and self-isolate, and staff who might be vulnerable should not attend any visits.
The Department for Education says that if social workers or police need to visit and investigate child protection concerns, they should be admitted to the home while observing appropriate infection control procedures.
If a child in a residential care home develops symptoms of coronavirus, staff can continue to enter the home but consistent staff rotas should be used and staff should follow infection control procedures. Other residents in the home should remain in isolation and not attend any off-site school for two weeks.
All residential special schools and colleges should assess the risk, along with councils, in deciding how to apply this guidance most effectively. Settings that cannot remain open should aim to make closures temporary and reopen once they have drafted in additional staff, according to the guidance.
Local authorities should help with these staff movements and, as far as possible, should disregard the usual boundaries of maintained, academy, college or other institution type to move appropriate staff into priority settings.
Local authorities should also maintain a register of all pupils and students with Education, Health and Care (EHC) plans, including any still under assessment for EHC plans, who have been sent home from their residential educational setting.
Councils should also contact the families of these pupils frequently as part of its monitoring duties to ensure risks are being managed, and to establish whether additional support is necessary and how that will be delivered.