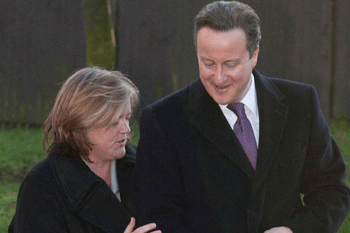 Only a third of England's most troubled families have been 'turned around' following two years of Government graft, figures reveal.
Ministers emphasised efforts were on track despite concerns that pledges from the prime minister to support and improve the behaviour of 120,000 troubled families by 2015 could be missed.
A progress update from the Department of Communities and Local Government shows 39,480 families have been helped to reduce truancy, anti-social behaviour and youth crime since the programme began.
While the Government estimates this has saved the taxpayer annual sums of £3bn, charities warned of significant inconsistencies in local support.
A committee of MPs urged the Government to 'speed up' its work with troubled families earlier this month, warning that DCLG and DWP could fall short of goals.
'Getting some of our country's most troubled families' lives back on track is a key part of our long-term plan - it saves the taxpayer money, gives people the chance to get on in life and secures a better future for these families, their communities and for our country,' prime minister David Cameron said.
Communities secretary Eric Pickles said: 'Progress is being made in all corners of the country and I'm proud that this Government is taking action to help change the lives of the families most in need.'
Head of the programme Louise Casey, added: 'This programme works because it is about dealing with all members of the family and all of its problems, being tough but supportive and providing intensive, practical help. Councils have changed the way they work with troubled families to make sure that one team or worker is providing that support, not a dozen different public services.'
Responding to the figures, charity 4Children warned there were still 80,000 families who are yet to turn their problems around.
'There are significant disparities in success between local areas,' chief executive of 4Children, Anne Longfield, said. 'Some areas are not yet joining their services together to provide the intensive support needed. This will be even more important when the programme expands to a further 400,000 families from 2015/16.'