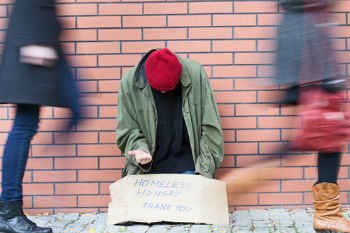 A coalition of men's charities have lodged an official complaint after a Government report 'erased' the gender of male of rough sleepers.
The Men and Boys Coalition (MBC) has made an official complaint to the UK Statistics Authority regarding a DCLG report they claim 'excludes' the overall numbers of male rough sleepers and their proportion.
The report, published on 25 January, on rough sleeping statistics includes for the first time basic demographic information about those found sleeping rough, covering gender, age and nationality.
However, the report only included the statistics on female rough sleepers.
The Men and Boys Coalition (MBC), a network of charities, academics and professionals committed to highlighting and taking action on gender-specific issues that affect men and boys, accused the department of communities and local government of 'erasing' male rough sleepers in this report.
They argued 88% of rough sleepers were male and of the 40% of the local authorities in which rough sleepers were recorded, 100% of those sleeping rough were men.
In each of these local authorities gender was only recorded for the 'zero' number of rough sleepers who were female,' the MBC said.
'We have made this complaint because we feel it is vital to understand publicly the Government department's reasoning behind why it excluded men who are rough sleeping from its report,' said the coalition's co-founder Mark Brooks.
'The fact that men make up the overwhelming majority of people who are rough sleeping makes it far harder to comprehend its decision.'
'This exclusion has serious consequences as it impacts on how the public and service providers recognise and understands rough sleepers in England, ultimately further marginalising men in this situation,' he added.
Responding to the accusation, a DCLG spokesperson said: 'We do not recognise this interpretation of the statistics. The Government is clear that one person without a home is one too many.
'That's why we're investing over £550 million to reduce homelessness and we are supporting Bob Blackman's Homelessness Reduction Bill to prevent more people from becoming homeless in the first place.'