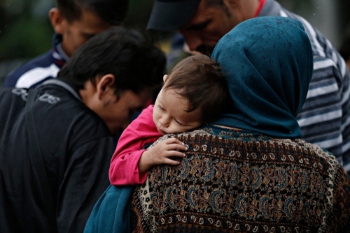 Local authorities in England, Wales and Scotland will receive £5m to help fund the resettlement of refugees who are fleeing the Taliban.
As part of the New Plan for Immigration, the Government has announced that Afghans who arrive under the Afghan Relocations and Assistance Policy (ARAP) will be given immediate indefinite leave to remain.
In order to help councils meet the costs of renting properties for the refugees, the Government has committed to providing local authorities with £5m.
The NHS will also receive £3m so that Afghans arriving under the ARAP scheme can access healthcare and register with a GP once they leave COVID quarantine. Around £12m has been set aside to provide additional school places.
Overall, £200m has been committed to meet the cost of the first year of the Afghanistan Citizens' Resettlement Scheme, which aims to welcome up to 20,000 Afghans.
'As part of the New Plan for Immigration, I committed to providing refugees who make their home here the ability to rebuild their lives in the UK with essential support to integrate into the community, learn English, and become self-sufficient,' said home secretary Priti Patel.
'By providing immediate indefinite leave to remain we are ensuring that those who have fled their homes have every opportunity to look to the future with stability and security and make a success of their new life in the UK.'
Image: Alexandros Michailidis / Shutterstock.com.