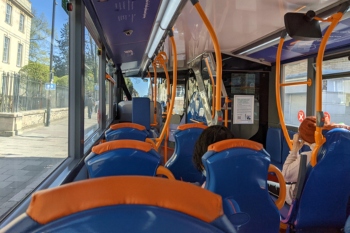 Ministers have announced a £150m, 'final tranche' of pandemic-related support to bus and light rail operators across England, a month before existing funding is due to end.
The exact source and purpose of the funding is unclear, with the Department for Transport (DfT) linking the money to the aims and processes set out in last year's National Bus Strategy.
However, a spokesperson for the Confederation of Passenger Transport (CPT), which represents bus operators, said that its understanding was that all the cash for buses was a continuation of the Covid-related Bus Recovery Grant.
The DfT said the £150m was 'the final tranche of pandemic-related support to operators and will run for six months until October 2022'.
However, it added that the new cash will 'support operators and authorities as they adapt to changing travel patterns [and] help the continued delivery of Enhanced Partnerships, with local authorities working closely with bus companies to draw on their operating knowledge and marketing skills.'
It said: 'Additionally, it will support local authorities and operators across England as they continue working on Bus Service Improvement Plans and delivering substantive improvements to local services.'
The DfT said the new funding 'is dependent on local areas and operators co-designing a financially sustainable and passenger focussed public transport network, that works for changing travel patterns post-pandemic'.
It added: 'More details on the allocation of this funding will be provided in due course.'
Transport secretary Grant Shapps said the cash would 'ensure millions of us can continue to use vital public transport services, and brings the total we've provided to the sector to keep services running throughout the pandemic to over £2bn'.
He added: 'This funding will also help authorities and operators work together to provide even better services for people right across the country.'
CPT chief executive Graham Vidler said the cash 'will help operators have the certainty they need to run an extensive network of services over the coming months as we all adjust to life after the pandemic.'
He added: 'In the longer term the bus network will need to adapt to meet passengers' new travel patterns. Over the coming months operators will be working closely with local authorities to plan future bus networks and introduce plans to grow passenger numbers.'