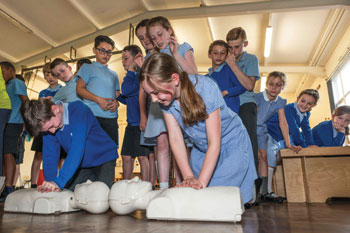 Our recent reader survey into how councils are using the Social Value Act when commissioning or procuring services made for uncomfortable reading for many in local government.
The survey - conducted in partnership with Morgan Sindall - wasn't all bad news as it did reveal that 70% of councils are using the Act to drive improvements in their local community. However, it did highlight that only one in three councils feel that the Act is now embedded into projects, with a fifth of respondents admitting it wasn't being used at all.
So what can this survey reveal about councils' attitude to social value, and what can be done to really embrace it going forwards?
Lyndsay Smith, director of education and frameworks at Morgan Sindall, said there were several unexpected findings that came out of the survey. 'As a private sector company who is embracing social value and driving it throughout our organisation, one of the biggest surprises for us was that there seems to be confusion about what social value looks like in reality,' said Ms Smith. 'That said, we have some great examples where we can see what's been achieved in local communities through social value. So there are successes and socially responsible procurement can achieve results.'
Ms Smith also said the fact that community cohesion topped the list of the most pressing challenges facing councils came as a shock. She says: 'If we look at the kind of things we are being asked to focus on by councils such as care for the elderly, to see community cohesion top of the list of social value priorities surprised us a little. However, it could be a result of Brexit, the impact of ongoing austerity measures, or due to the growing inequalities gap.'
Two-thirds of council staff answering the survey said that measuring social value was difficult. However, Ms Smith suggests that this doesn't need to be the case.
She says: 'There's a tool called LM3 which Morgan Sindall uses to find out where money is leaking away from the local community.
'We've also realised that it's not about focusing on the numbers, but about focusing on the experiences of the people involved in projects. This provides a good argument for using an approach called 'social accounting' so we can talk to the people that have been on the receiving end of projects and ask how their community has changed as a result of a new build.
'It's trying to get the qualitative and the quantitative approaches in place that's important to us. When we're talking to local authorities they can see it's not just about building a building and then walking away: we're about leaving behind a legacy that will make a positive difference to the community.'
Ms Smith holds up Birmingham City Council as an example of best practice in this field. 'They actually have a social value policy in place. This policy goes above and beyond complying with the Social Value Act. They have clear examples of what social value is, such as local employment, local purchasing and the use of community partnerships. They also a social value clause that means companies have to go local where possible.'
For example one of the KPI's on the council's printing services contract is that 50% of the overall spend has to be on suppliers in Birmingham and within a ten-mile radius of the council headquarters. This goes up to 100% within a 30-mile radius, so has a very strong focus on the local economy and employment, as well as the sustainability and environmental elements. So what needs to change to ensure all councils are using social value in their commissioning and procurement processes?
Ms Smith believes that changing the way councils see 'best value' would be a good starting point. She says: 'In this country we have a tendency to reward procurement officers for getting the best price and not always the best value. Actually spending the least amount of money doesn't always drive the value for a community.
'You need to measure the value of something beyond the actual price. Having social value clauses like they do in Birmingham, means the thinking at a commissioner level is being translating into the procurement document and has to be reported on.'
The survey also found that 22% of councils were using the Social Value Act to create apprenticeships, an issue that is close to Ms Smith's heart. She explains that Morgan Sindall is in agreement with the government's commitment to increasing the number of apprenticeships. This would help young people to avoid the high levels of debts associated with going to university, while attracting new talent into the construction industry.
'Given we're about to undertake some the biggest infrastructure projects this country has ever seen such as HS2, Heathrow and Crossrail - we need our young people to want to come and work in this industry. So we need to pour effort into creating apprenticeships or internships, especially at a higher level.'
So our survey has shown that four years since the Act was introduced, there is still a lot of work to be done for councils to fully embrace social value. However, hopefully by sharing best practice (which we will be doing in future issues of Local Government News) local government can see what can be achieved in doing so.