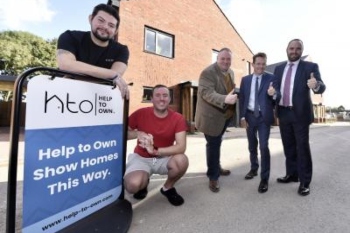 A young homeless couple has been handed the opportunity to buy a house for £1 under a pioneering scheme to help people onto the housing ladder.
The Help to Own scheme has been set up by City of Wolverhampton Council, West Midlands Combined Authority (WMCA) and fund management business Frontier Development Capital Ltd (FDC).
It provides long-term rent security for tenants and enables them to build up a Loyalty Premium as they make their monthly payments. This can then be taken as cash if they leave the scheme within 20 years or they can buy the home for just £1 on their 25th anniversary.
The Help to Own scheme has spent £24m purchasing 100 properties – a mix of two, three and four-bedroom houses – at The Marches in Wednesfield, Wolverhampton.
Aaron Parsons, who works in manufacturing and Timothy Perry, who is a machine press operator, are among the first batch of tenants who have just moved into 12 of the new houses. So far, 86 of the houses have been offered to successful applicants and more than 41% of the homes will go to a key worker.
Aaron and Tim, who were once homeless but more recently rented through social housing, have moved into a two-bedroom house at The Marches.
'Our experience of finding a decent home to rent has been really tough, we have experienced homelessness, and then moved into a social housing property,' said Aaron.
'Saving for a deposit whilst renting is really challenging, even though we both work full time, so The Help to Own scheme sounded like the perfect opportunity to get to where we wanted.
The council has put £5.7m into the scheme, while the WMCA has put in £4.7m.
City of Wolverhampton council leader and WMCA portfolio holder for economy and innovation, Cllr Ian Brookfield, commented: 'We are incredibly proud that Wolverhampton is home to this ground-breaking scheme, and to see it working so well at the end of the first phase is a testament to our own well-established housing company, WV Living, who have worked closely with the Help to Own team to bring these stunning new-build houses to the first 12 households, whilst delivering new homes across the city, including at previously vacant sites that other developers have overlooked.
'This scheme is giving local families, couples and individuals the opportunity to get on the property ladder and own new, quality-built homes, making the route to homeownership far more accessible than typical private market renting.'
Andy Street, mayor of the West Midlands and chair of the WMCA, said: 'I am genuinely thrilled to see that the first phase of Help to Own has been such a resounding success, allowing people like Aaron and Tim to move into a high quality home of their own, with the flexibility and security to either save for a deposit or buy the home for just £1 at the end of their tenancy.
'It's particularly encouraging that a large proportion of the homes are being allocated, as we always intended, to our incredible key workers and frontline NHS staff, who deserve nothing less for their service during the COVID-19 pandemic.'