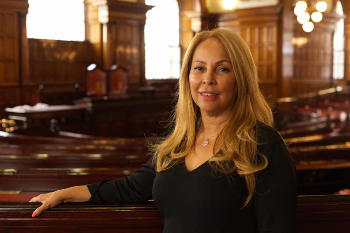 Liverpool's first black Lord Mayor has been announced after her predecessor was forced to step down for sharing a video containing offensive material.
Cllr Anna Rothery said she was 'excited and overwhelmed' by the appointment, but added that she wished the circumstances were different.
The former Lord Mayor, Cllr Peter Brennan, tendered his resignation to Liverpool City Council in July following several complaints relating to a video sent to a WhatsApp group.
The mayor of Liverpool, Joe Anderson, said at the time he was 'shocked and appalled' to see the video being shared by Cllr Brennan.
'Racist language and behaviour is inexcusable and unforgivable in all its forms,' he said.
Cllr Anna Rothery will be sworn in at a ceremony at the Town Hall on 4 September – making history as the city's first ever black Lord Mayor.
'To be given this opportunity is overwhelming and exciting at the same time, although I wish the circumstances were different,' she said.
'But now is as good as time as any – I was passionate about becoming a councillor and making a difference and I am equally as passionate about becoming Lord Mayor and having this opportunity to champion what I hold most dear: equality, diversity and community.'
Mayor Anderson commented: 'Anna has been a leading light in championing the city's diverse communities since becoming a councillor in 2006 and she will be a credit to the role of Lord Mayor.'
Photo: Liverpool City Council