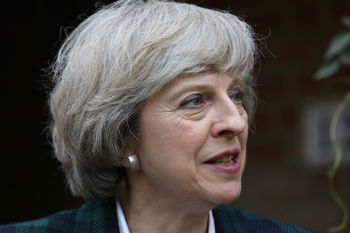 Ethnic minorities are under-represented at senior levels across the public sector, a fact the Prime Minister says society needs to 'explain or change'.
The Government has launched its new 'Ethnicity Facts and Figures' website which will contain statistics relating to ethnicity in 130 different areas, including health, education, employment and the criminal justice system.
Theresa May said it would be an 'essential resource in the battle to defeat ethnic injustice' that had to be tackled at all levels of society.
The key findings uncovered by the audit include the fact that ethnic minorities are under-represented at senior levels across the public sector.
This reflects recent findings from Green Park and Operation Black Vote (OBV) which showed only 4% of unitary authority leaders are from ethnic minority backgrounds. They also reveal not a single CEO at the top 50 unitary authorities comes from a Black, Asian and minority ethnic (BAME) background.
The audit also revealed employment rates are higher for white people than for ethnic minorities across the country, with a larger gap in the north (13.6%) than in the south (9%).
Education attainment data also shows there are disparities between ethnic groups in primary school which increase at the secondary level. Chinese and Asian pupils tend to perform well whereas White and Black pupils are doing less well.
'People who have lived with discrimination don't need a government audit to make them aware of the scale of the challenge,' said the Prime Minister.
'But this audit means that for society as a whole – for government, for our public services – there is nowhere to hide. These issues are now out in the open. And the message is very simple: if these disparities cannot be explained then they must be changed.
'Britain has come a long way in my lifetime in spreading equality and opportunity. But the data we are publishing today will provide the definitive evidence of how far we must still go in order to truly build a country that works for everyone.'