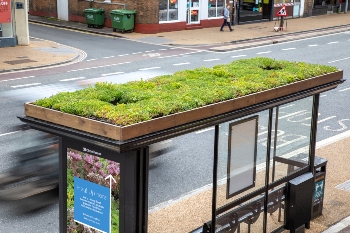 Initiatives to bring greenery and plant life back into urban areas have dramatically picked up the pace in the last decade. Various factors have driven these initiatives, including pressure to address the climate crisis and the desire to improve urban centres' air quality, as well as boosting the general health and wellbeing of city dwellers by providing more green spaces.
A substantial part of the increasing pace is a greater awareness of rapidly decreasing biodiversity around the world due to urbanisation and population growth. The decline of greenery and biodiversity in cities has been shown to have direct environmental impacts on wildlife populations in already fragmented ecosystems, increased flood risk in cities, the "urban heat island" effect (UHI) and also linked with decline in mental health more generally.
The good news is that greater awareness is boosting action and local authorities do have the power to improve their biodiversity and bring with it all of the associated benefits. They can achieve this by committing to building and supporting carefully considered large-scale urban infrastructure to reintroduce nature into urban areas.
Some recent projects have been rolled out in Europe with scale in mind. Ongoing since 2017, the Wonderwood Vertical Forest in Utrecht, in the Netherlands, is a project to create a 90 metre tall apartment tower housing 10,000 plants, equivalent to one hectare of forest. If successful, developers claim the plants could be capable of absorbing 5.4 tonnes of C02, producing up to 41 tonnes of oxygen every year and providing protection for various species of birds and insects. Described as an "open laboratory", a network of sensors will be installed to report on the condition of the plants to identify what is working best, helping researchers to learn about successful urban forestation.
Utrecht also installed a full network of 316 Bee Bus Stops in 2019; a direct and decisive initiative by the city's leaders to combat declining bee populations. The Netherlands is home to 358 bee species, with more than half of them endangered, and a national "Bed & Breakfast for bees" pollination strategy was introduced to tackle this. The Bee Bus Stops are bus stops with living roofs planted with sedum species, which are resilient and encourage pollination. The shelters also feature energy efficient LED lights and bamboo benches. The 2021 National Bee Census recorded that bee numbers had remained steady in Dutch cities, demonstrating that efforts are paying off.
The UK has followed suit, with the UK's first Bee Bus Stop introduced in Cardiff in 2020 and, this year, Leicester has announced its transformation of all 479 bus stops in the city, including 30 Living Roof shelters. Along with a carefully selected native wildflower and sedum flower mix, the shelters also feature solar powered, energy-efficient smart lighting, and sustainable Ecodek upcycled seats made from waste wood and plastic milk bottles. This will be the first citywide network in the UK and complements Leicester Council's other pollination initiatives, which include planting wildflowers along three and a half miles of roadside and roundabouts. These act as 'insect super-highways' that create safe pit stops for insects when travelling between nearby sites such as parks and nature reserves, thus reconnecting the fragmented ecosystems in our cities for pollinators to be able to thrive again.
Bee Bus Stops are a great example of how flat surfaces of any shape or size can be converted to positively contribute to biodiversity and greening with a carefully considered plant mix. This contributes to sustainable urban drainage by absorbing rainwater and reduce the UHI effect, as well as getting ahead of future obligations of the anticipated Environmental Bill. Living roofs can also contribute to capturing dust particles in the air and absorb the greenhouse gas C02. The plants and flowers attract a whole host of insects including bees, butterflies, beetles, and spiders, promoting biodiversity and encouraging pollination.
There has been an increase in funding available for councils to introduce greening initiatives, and partnerships with local businesses and charities can also be considered. Provided they are constructed in accordance with industry codes of best practices such as the GRO's Green Roof Code 2021 and expert ecologists are consulted in planning stages, such as those at local Wildlife Trusts, living roofs can make a real and valuable contribution to a city's climate resilience strategy and can be a cost-effective, easy, and attractive way to start greening cities.
Leicester might be leading the way, aiming to be a fully carbon-neutral, biodiverse, and climate-adapted city by 2030, but they're not the only UK council with bold environmental aspirations. The future is green, and it won't be long before every town and city will be reaping the benefits from urban greening, improved climate resilience and greater biodiversity. These are benefits for us all, not just for the bees.
Will Ramage is MD of Clear Channel