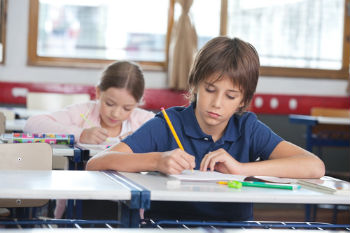 The most disadvantaged pupils in England are on average two years of learning behind their more affluent peers, according to a new study.
The study by the Education Policy Institute found there has been some progress in closing the gap between disadvantaged pupils and their peers since 2007.
From 2007 to 2016, the gap by the end of primary school has narrowed by 2.8 months and the gap by age five years old has narrowed by 1.2 months.
But disadvantaged pupils were on average 19.3 months behind their peers by the time they took their GCSEs, which means they are falling behind by around two months each year over the course of secondary school.
The report states in 2016, the gap at the end of secondary school is 24.3 months, which is the equivalent of two year's learning.
It also found significant variations around the country, with the disadvantage gap at the end of secondary school generally smaller in London, the South and the East, while in the East Midlands, the Humber, North and South West the gap is significantly larger.
And on the Isle of Wight, disadvantaged pupils are more than two years (29 months) behind their peers at the end of secondary school.
But the report also noted some areas, such as Richmond-upon-Thames and Windsor and Maidenhead have been 'notably successful' at improving outcomes for disadvantaged pupils and the gap in both boroughs has closed by six months since 2012.