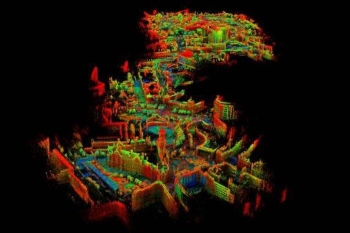 A new project to virtually 'clone' Bradford city centre has been unveiled.
Virtual Bradford will revolutionise how the council deals with planning, air pollution and traffic management. It will also allow the creation of heritage trails, virtual shops and virtual exhibitions.
The project - a collaboration between Bradford Council and the University of Bradford - will create a 'brick for brick' hi-resolution copy of the city centre.
Syd Simpson, flood risk and mapping officer at Bradford Council, said: 'This concept of a virtual digital twin of a city goes back quite a few years but the ability to create one has been limited by the expense of the technology. For a long time, it was too expensive for a local authority to build something like this. As the years have gone by, it has become cheaper and easier to do these things.
'We had an opportunity through the SCORE project, which is really where the seed of this has come from - it has enabled us to commission this work and the university won the tender.
'This model will be freely available for people to use - anyone can take it and use it in their designs. A games manufacturer could take it and put the software in place to create something interactive, for example.'
Academics from the University will use an electric trike with hi-tech laser scanners and a drone to capture the 3D model.