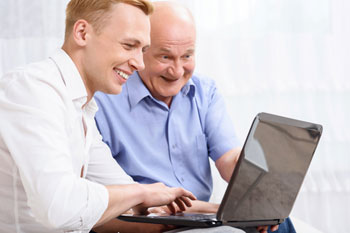 More than four million of the 8.7 million adults who have never been online live in social housing.
In the UK around 11% of the adult population have never been online and this increases to 61% for those over 75 years old. That's nearly nine million adults in the UK who have never been online. They and their families - often the most vulnerable households - are in danger of missing out, socially, educationally and financially.
According to the UK Online Centres: UK Jobs and the Internet report in 2012, more than 70% of UK employers are unlikely to offer an interview to a candidate who doesn't have basic computer or internet skills. Being online also opens up new opportunities to search and apply for work and better prices. Offline households miss out on estimated savings of £560 per year from shopping and paying bills online. This means that vulnerable families are being made even more vulnerable by not being online.
Then there are the implications of the benefits system going digital. The government wants 80% of applications for Universal Credit to be online by 2017. People who are unable to make applications online may lose out; late or wrong payments might make it difficult for claimants to pay rent on time and can only add to their financial hardships.
Clearly, local authorities and housing associations need to find ways of making sure all their tenants enjoy the benefits of a more digital lifestyle as it is vital that everyone, without exception, begins their digital journey rather than miss out on education, job opportunities and access to government and health services all available online.
Last year, the Glasgow Housing Association (GHA) partnered with the Scottish Government and BT to give affordable wi-fi access to each of 138 homes in a single block.
Why Glasgow? Glasgow has a low level of broadband take-up with only 50% of Glaswegians online, compared to 80% in the whole of the UK. Glasgow Housing Association (GHA) is a major provider of homes in the city but only one third of its tenants are currently online (and 90 per cent of GHA tenants over the age of 65 have never used the internet).
Residents were offered a new tablet with connection to high speed wi-fi access points located throughout the building, which linked back into the main BT network via a single fibre cable. Only two in five tenants previously had internet access at home. The results were very encouraging…in fact you can see them here:
Three in five tenants searched for a job online, and for over half, this was the first time they had ever done so and three quarters of them said they saved money. Families used Facebook and Skype to stay in touch with friends and family, promoting social inclusion, and two thirds of households reported a benefit in terms of their own, or their children's, education.
The scheme also demonstrated tangible benefits to the local authority. The tenants having internet access meant they were much more likely to use online channels to report faults or make service requests. The cost of the GHA pilot was around £5 per tenant a month, and research has shown that each local government contact/ transaction that is switched from telephone or post to online can generate savings of between £3.30 and £12.30.
Investing in online access for tenants might soon pay for itself in efficiencies and direct cost savings and as well as opening up a better world for residents.