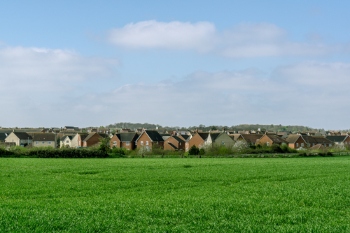 The Government has been urged to give rural households who live off the gas grid more time to transition to low carbon heating.
A new report from the think tank Localis has recommended that the Government extend by nine years to 2035 the deadline for homes off the gas grid to end fossil fuel heating installation – in line with the deadline for on-grid homes.
Currently the deadline for countryside dwellers to move away from fossil fuel heating is 2026. In Reaching rural properties: off-grid heating in the transition to net zero, Localis argued that this deadline does not provide sufficient time to improve the current heat pump market condition.
The think tank urged the Government not 'penalise' those who live off the gas grid by making them 'guinea pigs in the drive to decarbonise heating'.
The report advises the Government to improve the incentive schemes available to households. It advocates that Government should support a mix of low carbon heating technologies to help grow the market, stimulate infrastructure investment and improve incentives for uptake.
Report author, Zayn Qureshi, senior researcher at Localis, said: 'Given the depth and scale of the net zero challenge, government cannot afford to push forward with its current all or nothing approach to rural home decarbonisation. This not only places an unfair and disproportionate burden on off-grid properties, but it also risks large scale failure in convincing households to take up the switch.
'Government must approach this challenge with a degree of flexibility and adaptability, which takes into consideration the socio-economic place circumstances of households being targeted for the transition.
'As part of this, a mixed technology approach needs to be adopted. One that provides a range of cost-effective options to consumers over different low carbon technologies and 'drop in' fuels including bioLPG.'
Jonathan Werran, chief executive, Localis, said: 'Commercial and domestic heating is in the frontline of this epochal shift in the everyday which will have profound implications for millions of households. Like many national top-down agendas, the policy corridor for this remains stubbornly urban.
'However, in trialling the transition to clean heat methods, the pioneering areas are those which lie off the mains gas grid – and in consequence rely on alternative sources, frequently expensive to heat their homes.
'This is no small concern. In England there are 1.1 million homes off the gas grid that rely on fossil fuel heating, a figure which stretches to four million households – 15% of the total, across the UK.'
Mr Werran continued: 'Success will also depend on strongly co-ordinated messaging and communication allied with persuasive bottom-up community engagement strategies. In as vital a domestic policy area as this, a policy which literally affects the hearths of countless homes, there is limited scope to backtrack and reheat policy. It serves all our interests to work together and get this right first time.'
Sophia Haywood, director of public affairs at Liquid Gas UK, said: 'The current government strategy for decarbonising off-grid heating is a one size fits all approach, which isn't fit for purpose. It doesn't consider the needs of homes and businesses in rural areas, or the complexity of heating rural properties, which are typically harder to heat and expensive to retrofit.
'Liquid Gas UK welcomes the findings from the Localis report, and urges government to consider a broader energy mix, which includes LPG as the lowest carbon traditional fuel, and renewable liquid gases, such as bioLPG and rDME.
'The UK LPG industry has an ambition to be 100% renewable by 2040, with bioLPG already available on the market and a clear pathway to reaching Net Zero, this offers real choice for the consumer as they look to reduce their carbon footprint. A mixed technology approach to decarbonisation is vital, if UK Government are serious about delivering a just transition in rural areas.'