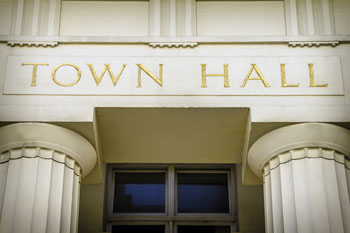 Councils are today submitting their devolution plans to the government ahead of the Treasury's deadline for proposals.
City and county areas are expected to make their case for greater powers, financial freedoms and control over services such as health, transport and housing.
The Local Government Association (LGA) said at least £60bn of central government spending should be devolved to local areas over the next five years.
Cllr Gary Porter, LGA chairman, said: 'In the negotiations that follow today, we urge the Government to match the ambitions shown by cities and county areas and ensure the benefits of devolution are extended to residents and businesses in all parts of the country.
'It is time to spend smarter on infrastructure to get maximum value from every public pound. This starts with a much more effective and efficient approach to investing in local growth and regeneration. With devolved decision making and funding, local areas can also better gear the skills system to tackle unemployment and underemployment and close skills gaps.
'Devolution is not an end in itself. If our public services are to survive the next five years, councils also need fairer funding alongside the freedom to pay for them.'
Of those bids already submitted, Gloucestershire is calling for control of all health care budgets, Derbyshire and Nottinghamshire have made their case for a 10-year transport settlement and fully devolved housing investment, while the Liverpool city region is proposing to retain 100% of business rates.
Visit www.themj.co.uk/devolution (£) for more information on the devolution bids.