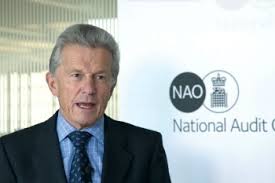 The Government department responsible for local authorities has 'limited understanding' of the pressure cutbacks are having on councils, the spending watchdog has warned.
The National Audit Office (NAO) said the Department for Communities and Local Government relies on other areas of Whitehall to tell it when things go wrong and is not aware of problems until it is too late.
Its report on the financial sustainability of local government warned that after 37% cuts between 2010 and 2015, councils will struggle to make further savings.
While social care has largely been protected, spending on housing services has been cut by 34% while culture and leisure services have seen a 29% reduction.
The NAO said there were 'significant differences' in the scale of cuts seen across local government and a separate report showed those hardest hit have also had to cut social care budgets.
But DCLG has a poor grasp of what is happening because 'its processes for assessing the capacity of authorities to absorb further funding reductions are also not sufficiently robust'.
Amyas Morse, head of the National Audit Office, said: 'The department really needs to be better informed about the situation on the ground among local authorities across England, in a much more active way, in order to head off serious problems before they happen.
'It should look for evidence of financial stress in local authorities to assure itself that they are able to deliver the services for which they are responsible. It should be clear about the knock-on effect of the various funding decisions taken by departments in Whitehall.'
However, the DCLG said it provided a 'fair' settlement to councils. Local government minister Kris Hopkins said: 'Every bit of the public sector needs to do their bit to tackle the deficit left by the last Administration, including local government which accounts for a quarter of all public spending. This Government continues to deliver a fair settlement to every part of the country - north and south, rural and urban, metropolitan and shire.
'The reality is since 2010 budgets have been balanced, council tax has fallen by 11% in real-terms and public satisfaction with local government has been maintained. But there is still much councils can do to cut waste and make sensible savings, such as using their reserves, making better use of surplus public sector assets, clamping down on fraud, boosting council tax collection rates and sharing back offices.'
A spokesperson for the Local Government Association said: 'With further public spending cuts expected in the next Parliament, it is clear that a "more of the same" approach will not work. Councils have worked hard to protect key services like adult social care from the impact of reductions in funding but, without fundamental reform, services will buckle under the strain of further cuts.
'Devolution to local areas is the only answer. Across a wide range of issues, there is compelling evidence that taking decisions closer to the people affected achieves better results and saves money. Faced with spending cuts and rising demand, popular services can only survive if local areas are given the full freedom to decide how they are provided and paid for.'
Graeme McDonald, director of Solace, said the reports showed how well councils had coped to date and built the case for local government to be able to raise and spend its own revenue.
'The NAO highlight that decisions are made without a clear picture of the distributional impacts across different local places and different services. Expecting Whitehall to have a handle on how each public pound is spent is both unrealistic and undemocratic. Only with devolved powers will local people be able to make the decisions that ensure their money is spent wisely.
'Councils are subject to a huge array of statutory duties and lack the ability to raise their own finance – they lack the ability to decide what they do or how they pay for it. This is not sustainable or democratic.'