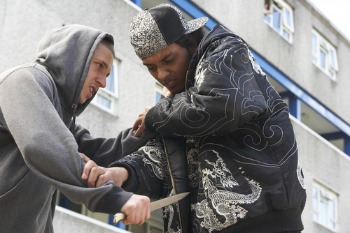 The local areas that have experienced the largest cuts to their youth services budgets have seen increases in knife crime, MPs have revealed.
Figures obtained by the All-Party Parliamentary Group on Knife Crime show the average council has cut real-terms spending on youth services by 40% over the past three years, with some reducing their spending by 91%.
The APPG's report also found there was a 68% increase in knife offences recorded by police in England and Wales over the same period, from 25,516 in the year ending March 2014 to 42,790 in the year ending September 2018.
The research was based on Freedom of Information requests made to 154 councils. 70% of these local authorities responded.
The top four worst hit council areas were City of Wolverhampton (youth services funding cut by 91%), City of Westminster (91%), Cambridgeshire County Council (88%), and Wokingham Borough Council (81%).
Police forces serving these areas have also seen some of the highest knife crime increases, leading the APPG to suggest that there is a link between cuts to youth services and knife crime.
According to the police, since 2013/14 there has been an 87% increase in knife crime offences for West Midlands Police, a 47% rise for the Metropolitan Police area (London), a 95% increase for Cambridgeshire Police, and a 99% increase for Thames Valley.
'We cannot hope to turn around the knife crime epidemic if we don't invest in our young people,' said chair of the APPG, Croydon Central MP Sarah Jones.
'Every time I speak to young people they say the same thing: they need more positive activities, safe spaces to spend time with friends and programmes to help them grow and develop.
'Our figures show how in areas where support for young people has been cut most, they are more at risk of violence. Youth services cannot be a "nice to have". Our children's safety must be our number one priority.'
Barnardo's chief executive Javed Khan said: 'These figures are alarming but sadly unsurprising. Taking away youth workers and safe spaces in the community contributes to a "poverty of hope" among young people who see little or no chance of a positive future.
'The Government needs to work with local authorities to ensure they have enough funding to run vital services and restore children's sense of hope.'
Responding to the APPG report, Cllr Anntoinette Bramble, chair of the Local Government Association's Children and Young People Board, said: 'Councils' youth offending teams (YOTs) have an outstanding track record in working with children and young people to stop them coming into the youth justice system, but they've been victims of their own success.
'As the numbers of young offenders has fallen, so has the grant from central Government to continue the preventative work that caused the fall in the first place.'
Cllr Bramble also stressed that council-run youth services have seen funding more than halved in real terms since 2010.
'Faced with significant rises in demand for urgent child protection work and a £3.1bn funding gap facing children's services by 2025, councils are being forced to divert the limited funding they have left away from preventative work, including YOTs and youth work, into services to protect children who are at immediate risk of harm.
'Councils must be given the resources they need to work with young people and prevent their involvement in crime in the first place, rather than simply picking up the pieces after offences have been committed. Government needs to address this in the forthcoming Spending Review.'