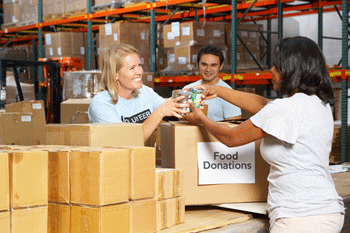 A rapid rise in the number of foodbanks across the UK has been linked to cuts in local services and welfare.
Findings from an Oxford University study published in The BMJ show areas with high unemployment rates and significant local and central government welfare cuts were more likely to see the opening of food banks.
The research builds on findings from non-government body the Trussell Trust, the Church of England, Oxfam and Child Poverty Action Group that indicated food bank users were most likely to live in rented accommodation and have had their unemployment benefits cut for at least a month.
The number of UK local authorities with food banks operated by the Trussell Trust has risen from 29 in 2009/10 to 251 in 2013/14.
Analysts for the first time linked information on Trussell Trust foodbanks to budgetary and social data from 375 town halls.
They estimated that a council that saw no cuts in spending over the past two years had a one in eight chance of a food bank opening. However the chance rose to more than one in two in regions that had experienced budget cuts of 3%.
It was also found greater central government welfare cuts, benefit sanctioning and higher unemployment were 'significantly associated' with larger rates of food parcel distribution.
Researchers admitted that while food parcel distribution was higher in locations with well-established food banks, 'our data also show that the local authorities with greater rates of sanctions and austerity are also experiencing greater rates of people seeking emergency food assistance'.
'More food banks are opening in areas experiencing greater cuts in spending on local services and central welfare benefits and higher unemployment rates,' report authors said.
'The rise in food bank use is also concentrated in communities where more people are experiencing benefit sanctions.'
It was added that the UK has 'likely underestimated the true burden of food insecurity'.
A spokesperson for the Department for Work and Pensions said: 'The Government spends £94bn a year on working-age benefits and provides a wide range of advice and assistance for anyone in need of additional support.
'The vast majority of benefits are processed on time with improvements being made year on year and the number of sanctions has actually gone down.'