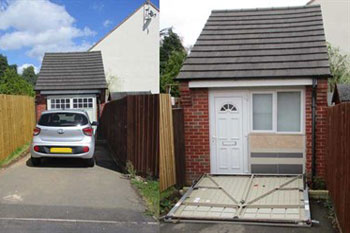 A couple in Leicestershire have been forced to pay over £4,000 for breaching planning regulations at their home.
Blaby District Council's planning enforcement team first investigated unauthorised works at the home of Dr Reeta Herzallah and Mr Hamdi Almasri in October 2015.
The development included the conversion of the couple's garage to habitable accommodation and the erection of fencing, preventing off street parking at the property.
They also undertook illegal works within the highway and created an unauthorised vehicular access onto the busy B4114 dual carriageway.
These works resulted in a Breach of Condition Notice being served under Section 171 D (1) of the Town & Country Planning Act 1990.
Leicester Magistrates' Court have ordered the defendants to pay a £770 fine, legal costs of £1,252.30 as well as a £77 victim surcharge.
After the initial inspection in 2015, the council approached Dr. Herzallah and Mr Almasri to resolve the matter. A retrospective planning application was also submitted but this was refused in February 2017.
Further inspections by officers in November 2017 found the issue had not been resolved.
Cllr Sheila Scott, portfolio holder for planning, housing strategy, economic & community development, said: 'The message from this case is clear. If you breach planning regulations and ignore us we will not just go away.
'Creating an access onto the busy B4114 and blocking off valuable off-road parking space was completely unacceptable.
'We will be following up the successful prosecution with a further visit to ensure that all the requirements of the Breach of Condition Notice are fully complied with.'