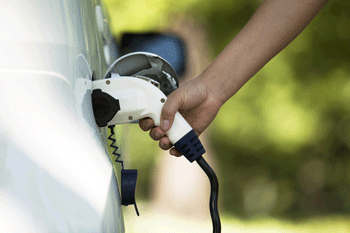 The government's official health advisers have appealed to public sector organisations to switch to low-emission vehicles.
The National Institute for Health and Care Excellence (NICE) says changing to more environmentally friendly vehicles when their current fleet reaches the end of its working life would help tackle air pollution.
It says local authorities and NHS organisations should also make sure the services they commission identify how they will reduce emissions from their vehicles to improve air quality.
Air pollution from cars and vans is estimated to cost the UK £5.9bn a year through its effects on people's health.
Almost £1bn of this is attributed directly to the cost of hospital admissions and treatment of related illnesses.
NICE says training drivers in smooth techniques and vehicle sharing could also make a valuable contribution to protecting people from the effects of air pollution.
Professor Gillian Leng, deputy chief executive and director of health and social care at NICE, said: 'Organisations should make low vehicle emissions one of the key criteria when making routine procurement decisions.
'This could include selecting low-emission vehicles, including electric vehicles.
'Lowering road traffic-related air pollution will help reduce the significant financial costs currently incurred by the NHS through treating related illnesses.'