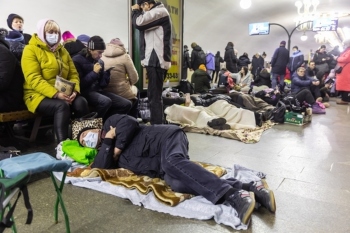 Local authorities will be able to become a sponsor to help displaced Ukrainians come over to the UK.
The Prime Minister has announced plans for an uncapped sponsored humanitarian visa route to help Ukrainians with no ties to the UK. This will allow sponsors such as local authorities and communities to help Ukrainians who have been forced to flee their homes.
Under the scheme, people will be able to work and will be given housing and integration support.
The Government has also expanded its Ukrainian Humanitarian Route to enable people settled in the UK to bring extended family members over.
Home secretary Priti Patel said: 'Our Ukrainian Humanitarian Route will allow families to be reunited in the UK and our bespoke sponsor route will give safety to Ukrainians who have sadly been forced to flee their homes.
'This agile response to the despicable Russian invasion is living proof of our New Plan for Immigration – doing what is fair and right to support people in genuine need.'
Further details on the community sponsorship route will be announced in due course.