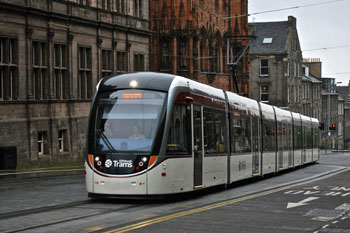 The former convenor of Edinburgh council's transport committee has told the Edinburgh Tram Inquiry that councils should not take on large public procurement projects like the city's tram network, as the council advertised for contractors to build a £162m extension.
Gordon Ferguson, a former councillor and member of the Tram Project Board, gave evidence to the Inquiry on Wednesday (1 November).
In a written statement, he said: 'I do not think that a political body, such as a Council, should take these types of projects forward; it creates too many opportunities for division and divulging information which may disadvantage the public purse.'
He added that he did not think councillors should have been on the various boards involved in the project, adding: 'it created difficulties in terms of conflicts of interest, which we felt that we were managing at that time, but didn't generate sufficient benefit to offset the potential conflict. It would have been more sensible, that Councillors were not involved in those boards.'
The inquiry is looking into why the original project was delivered late and more than £200m over budget.
Cllr Lesley Macinnes, the current transport convener, said: 'We welcome the Tram Inquiry and hope that any recommendations will benefit public bodies, especially local authorities, when it comes to the commissioning and carrying out of major infrastructure projects.
'It is important to us that we have taken into account experience from the previous project which is being incorporated into our plans for the proposed new line to Newhaven. Edinburgh is a growing city which needs an integrated transport system delivered both effectively and efficiently and we will continue to co-operate fully with Lord Hardie and his team.'
The comments came after the council published two contract notices for work to build an extension costing a total £162m to Leith and Newhaven, to the north of the city, in advance of a final decision on the scheme next year.
A Swept Path Contract valued at £25m will engage a contractor 'to clear the tram route of all below ground utilities and obstructions, including archaeology, either by means of diversion or removal'. The parameters of the area covered by this contraxt are to be defined by the contractor awarded the main Infrastructure and System Contract, valued at £90m.