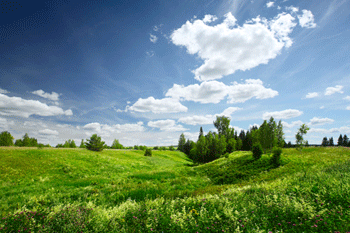 Record amounts of green belt land have been released for housing, according to environmenal campaigners.
According to the Campaign to Protect Rural England, Government data shows councils have released 10,000 hectares of land from the protected areas.
It says the increase has been caused by a combination of unrealistic housing targets set by the Government, the capacity of the housebuilding industry and slow building on land already granted planning permission.
The group says planning permission was granted for 378,600 homes in England last year but housebuilders have increased their land banks by 20% over the past 10 years while the overall rate of actual building of houses has slowed.
It says the new figures reinforce the conclusions of CPRE's State of the Green Belt 2018 report which showed that the planned loss of green belt is continuing to increase at an 'alarming' rate.
Rebecca Pullinger, the CPRE's planning campaigner, said: 'For too long housebuilders have been able to use land as a tool to manipulate and monopolise the market only to serve their own interests.
'The Government must stop heaping pressure on councils to deliver unrealistic targets that result in the Green Belt being chipped away.'