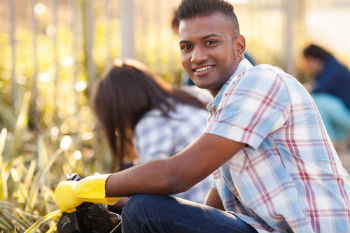 Councils are failing to support local volunteers despite a recent survey finding nearly one third of residents would like to get involved as community activists,' says a new report.
A new report from the Fabians, entitled Powerful People, Powerful Places, sets out how councils and community organisations can get volunteers involved in local activities.
The research draws on conversations with residents in Milton Keynes, Liverpool and Truro, councillors and over 7,000 environmental campaigners, and found 30% said they would like to improve the environment where they live.
Powerful People, Powerful Places explains how people are most concerned about those issues that impact them locally. It says more needs to be done to give residents the information and confidence to act.
The report also revealed how people want to be more involved in the devolution process.
As one Liverpool resident explained, 'I think we're a bit sick of decisions always being made in London when they really don't have a clue what's going on up north. So, if we've got more control over our affairs, it's got to be better.'
'Many councils across the UK have made great strides in engaging local people on environmental issue,' said Tara Paterson, researcher at the Fabian Society and report author.
'But as this Fabian research makes clear, the majority still have a long way to go. To build a truly participatory culture, councils and green activists should be strategic – focusing on the third of people who want to get involved but are currently shut out.
'This means meeting people where they are, focusing on the local benefit and making sure people are told how their activism has made a difference.'
Commenting on the report, Polly Billington, director at UK100, said: 'The national conversation is currently focused on what "taking back control" means, and this report indicates there are real opportunities to make it a reality in a way that strengthens communities and enhances the world in which we live.
'The huge challenges of Brexit and climate change mean we need to make big decisions now about how we protect our environment.
'From fly-tipping to clean energy, the yet-to-be-mobilised have an appetite to get involved, and make their communities wealthier, healthier and more respectful of the natural world on which we all depend.'