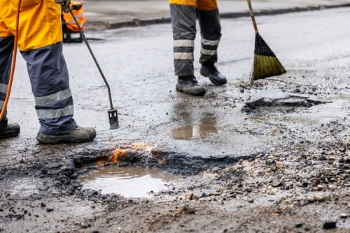 Local authority highway departments are struggling to patch up local roads and face a backlog of pothole repairs worth billions of pounds, an annual survey has revealed.
Carried out by the Asphalt Industry Alliance (AIA), the ALARM survey looks at the funding and conditions of the local road network in England and Wales.
The survey, which received responses from 73% of councils, found that there was a £12.64bn repair backlog. This represents an increase by almost a quarter (23%) on last year's figure and amounts to £61,700 for every mile of local road.
Rick Green, AIA chair, said: 'Local authority highway teams have a legal responsibility to keep our roads safe, but do not have the funds to do so in a cost effective, proactive way. As a result, while they report some slight improvements in surface conditions, the structure of our roads continues to decline.
'Although surface repairs have a part to play in extending the life of local roads, short-term fixes, including filling potholes, is indicative of a network that is "on the edge" and less efficient and sustainable when it comes to materials usage and whole-life carbon emissions.'