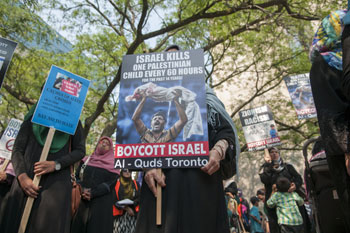 The Government has published new guidance designed to stop 'inappropriate' procurement boycotts by public authorities.
The new guidelines will ensure town halls are unable to take part in boycotts, outside where formal legal sanctions, embargoes and restrictions have been put in place by central government.
Locally organised boycotts contravene, according to Whitehall, the UK's international trade obligations, which require all countries that have signed up to the World Trade Organisation Government Procurement Agreement to treat suppliers equally.
The Government also claims council boycotts undermine good community relations, hinder Britain's export trade, and harm international relationships.
Cabinet office minister Matthew Hancock said: 'We need to challenge and prevent these divisive town hall boycotts.
'The new guidance on procurement combined with changes we are making to how pension pots can be invested will help prevent damaging and counter-productive local foreign policies undermining our national security.'
Any public body — including central government, executive agencies, non-departmental public bodies, the wider public sector, local authorities and NHS bodies — found to be in breach of the regulations could be subject to 'severe penalties'.
The Government's position is largely a reaction to the growing boycott, divestment and sanctions campaign aimed at challenging Israel's occupation of the Palestinian West Bank and its embargo of Hamas-controlled Gaza.
Conservative aides described the plans when they were first announced last October, as a response to the 'militant actions of leftwing councils', which, they said, were spurred on by the Labour leadership.
In 2014 Leicester City Council voted in support of a boycott and the Scottish government published procurement advice discouraging trade and investment with illegal Israeli settlements.
In the same year MPs passed a non-binding vote — 274 to 12 in favour — on a Labour motion to recognise Palestinian statehood.
Joanne Fry, senior policy officer for Hertfordshire County Council, criticised the Government in today's Guardian for displaying what she describes as 'a kind of cognitive dissonance' when dealing with local government.
Ms Fry writes that the Government talks about localism, but is 'constantly interfering in the way councils should or should not organise themselves.'
She goes on to note that after 2020 local authorities will be financially self-sufficient and so Whitehall won't be able to enforce the new procurement guidance.
'If local councils have a mandate – if procurement restrictions are set out in the manifesto of the party in power in any given council and it is wholly local taxpayers' money being spent on the contracts – central government has no business intervening in those decisions.'
Photo: arindambanerjee/Shutterstock.com